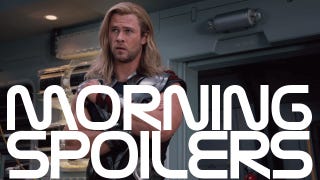 The latest rumor about The Avengers makes the movie's plot sound even more complicated than you could possibly imagine. Meanwhile, Ralph Fiennes drops hints about his James Bond role, and Arnold Schwarzenegger is an angelic one man army!
Spoilers from here on out!
Top image from The Avengers.
The Avengers
Remember that HeroClix description we published the other day, which hinted the Red Skull could be a secret villain in the movie? It still seems pretty unlikely.