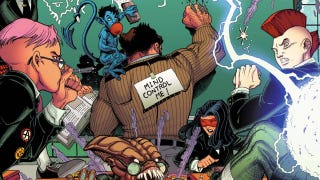 2011 gave us a wealth of great new comics, which ranged from tales of moss monsters to feral school headmasters to martial artists with the power to make their limbs fly off. But what comic book debuts tickled our fancy the most? Here are our picks, in no particular order.
Daredevil
By Mark Waid, Paolo Rivera, and Marcos Martin (Marvel Comics)
After the grim "Matt Murdock gets possessed by a demon and becomes an evil ninja master" storyline of the 2010 miniseries Shadowland, Daredevil completely flipped the script in 2011. In the superhero's new ongoing series, Kingdom Come and Irredeemable helmsman Mark Waid strips the superhero of his inner sturm und drang and suggests that being a handsome, superhuman attorney just might be a hoot.
This new Daredevil series works because Waid understands there are certain dramatic limitations to penning superhero comics. As one of Marvel's staple characters, Daredevil can never die, so past writers have shuffled the tragedy onto the Man Without Fear's secret identity and supporting cast. But you can only pile on so many personal horrors before the character becomes a quivering husk in red leotards who sleeps in a sensory deprivation and blasts Evanescence.
Instead, Waid allows Matt Murdock to enjoy his moonlighting. By focusing on his sensory superpowers, Waid gets to the pith of the character and, along the way, convinces us that being Daredevil is the greatest gig on the planet. "Did you know that every single strawberry on this table smells just a little bit different?" waxes Matt in the first issue. Everyone he meets assumes he's Daredevil, but Matt laughs off their accusations. He's that good.
So yes, Waid's run takes place in Daredevil canon, but he doesn't spend a lot of time dwelling on his past. This is Daredevil's "Welcome Back, Frank" moment — Daredevil is addictive, accessible, back to basics, and privy to some of the most sublime illustrations in the superhero business. The artwork by Paolo Rivera and Marcos Martin is pure four-panel fantasia.
Infinite Kung-Fu
By Kagan McLeod (Top Shelf)
We love ourselves some wuxia insanity, so Kagan McLeod's graphic novel about every single martial arts trope rolled up into one zombie-filled universe was right up our alley. From our review last August: