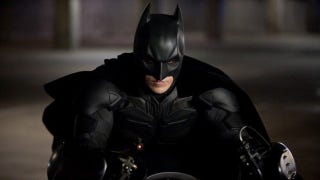 Everyday, we sift through all the crazy rumors and speculation to bring you the morning's spoilers. In the past year, we've found some gems of real information...as well as some truly magnificent loads of nonsense. Here are the year's best. Warning: Some of these things are still spoilers!
---
Rightest
Marion Cotillard and Talia al Ghul will be in The Dark Knight Rises. Note that I am not saying that Cotillard is playing Talia in Christopher Nolan's last Batman movie, which is something we're still not 100% sure about. Here's what we know — after what felt like decades of endless rumors and speculation that the Inception actress would be playing the daughter of Ra's al Ghul, Nolan did indeed cast Cotillard in the movie...except he said she was playing Wayne Enterprises executive Miranda Tate. Of course, that didn't stop anyone from speculating that this was just a fake-out for her real role, which was only strengthened when set photos showed Cotillard apparently leading a bunch of mercenaries around in Talia-esque fashion. The only wrinkle to all this? In interviews, Cotillard insists her character doesn't come from the comics. Either way, we're pretty certain that Talia is in the film, if only in a flashback, something we unexpectedly learned when 8-year-old British actress Leilah De Meza revealed she turned down the role in the movie because it required shaving her head. So yeah, we're about 99.9% sure Cotillard is playing Talia...but let's not saying anything we'll regret later.
Wolverine will appear in X-Men: First Class and tell Magneto and Professor X to "Go fuck yourselves." Matthew Vaughn's X-Men movie was supposed to be a complete fresh start for the troubled franchise, ditching most of the previously seen mutants and providing new, earlier versions of Professor X, Magneto, Mystique, and Beast. Only the status of the most popular mutant was in question - producer Bryan Singer said Hugh Jackman might return as Wolverine for the sequel, but claims continued to swirl that Wolverine would have at least a cameo in the prequel. Earlier claims of him showing up for a fight scene were totally wrong, but as the British press leaked after an advance screening, Wolverine did show up for a gloriously profane one-line appearance, which I believe is the first time "fuck" has been used in a major superhero movie (possibly leaving aside the R-rated Watchmen, which wasn't even pretending to be family-friendly).

The Thor post-credits scene will reveal Loki is the villain of The Avengers. There were constant leaks about Kenneth Branagh's superhero movie - indeed, we posted an almost completely accurate synopsis of the movie way back in January, and everyone knew Jeremy Renner would cameo as Hawkeye seemingly before the man was even cast. But it was the post-credits scene that attracted the most attention, as it confirmed Tom Hiddleston's Loki would indeed be the villain of The Avengers. (As for who is joining him...well, we'll get to that in a moment.) Once again, a 100% accurate description of the scene with Nick Fury, Stellan Skarsgård's Dr. Selvig, and a ghostly Loki leaked shortly before the film's release.