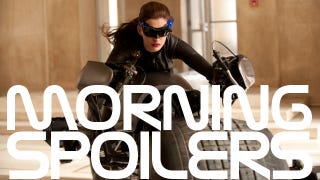 The tie-in toys for The Amazing Spider-Man could reveal crucial details about the movie's big final showdown. Christopher Lee talks about his roles in The Hobbit and Dark Shadows. Plus more on Fringe, Game of Thrones, Chuck, and The Vampire Diaries!
It's spoilers all the way down!
Top image from The Dark Knight Rises.
The Dark Knight Rises
Some more from the Anne Hathaway interview that reveals Catwoman is apparently working with the movie's main villain, Bane, in at least some capacity - first, Hathaway explains how she approached playing Catwoman, and how the character has some unexpected similarities to the Joker: