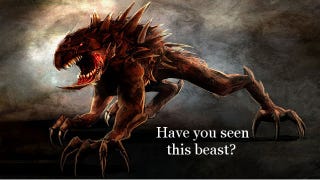 An unknown beast prefers the taste of human flesh, killing over 100 villagers in the South of France. Tens of thousands of citizens scoured the forests and country side looking for the beast out of fear that they could be it's next meal, but with no success.
The Beast of Gévaudan made a recent appearance in French movie Brotherhood of the Wolf, generating a new interest in the 250-year-old tale. The beast appeared as the ominous offspring of a lion, supplemented with armor and spiked facial implants.
What (or who) is behind these tales of terror and mutilation in 18th Century France? An examination of period lore is interesting and questionable at best, but a University of North Carolina Professor turned an academic eye to the origin and makeup of the beast in a recent academic text.
The top image is an artist's rendition of a creature, fitting parts of the description of the Beast of Gévaudan.
Muddled Descriptions
Records claim that the Beast of Gévaudan attacked at least 162 humans and killed 113 around a small town in the South of France 1764 to 1767. Those who survived the attacks gave a wild range of descriptions, with this combination of traits observed in the beast:
The Beast is a quadruped about the size of a horse. It reminds witnesses of a bear, hyena, wolf and panther all at once. It has a long wolf-like or pig-like snout, lined with large teeth. [...] The tail somewhat resembles the long tail of a panther, but it is so thick and strong that the Beast uses it as a weapon, knocking men and animals down with it.

A Time-Displaced Monster?
The description, in parts, fits for a wolf, hyena, bear, or panther, but the combined details fail to describe a single known creature. The Beast of Gévaudan is suggested by modern cryptozoologists to be a mutated bear, wolf-dog hybrid, or a species of long extinct form of mesonychid. Mesonychids are a group of predatory Paleocene mammals featuring a skull similar to a hyena's, but a body about the size of a horse. This would place the Beast of Gévaudan in the realm of the Loch Ness Monster – a time displaced, but real creature.

Royal Pains
King Louis XV (whose poor choices laid the groundwork for the French revolution) quickly sent professional hunters into the woods of Gévaudan to track down the beast. That's a bit like President Obama sending out Seal Team Six to go after the Mothman. Louis XV also rewarded survivors of attacks, including a group of 8 to 14 year old children who fought off the beast with iron tipped spears.