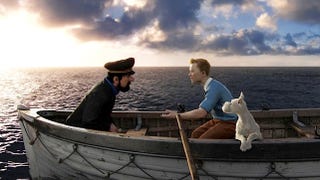 Despite boasting internationally lauded source material, the most famous populist auteur in film history, and lavish special effects, The Adventure of Tintin is a tough sell stateside. The film's androgyne hero remains an unknown quantity over here, and the previews' hyper-caricatured CGI may scare away those expecting a 107-minute safari through the uncanny valley.
Fortunately for Tintinophiles (and fans of sleeping soundly at night), Tintin evades the dead-eyed gooniness of The Polar Express. And for the uninitiated who wouldn't know the plot of The Blue Lotus from The Red Sea Sharks, know that the absolutely rollicking Adventures of Tintin is the Indiana Jones movie The Kingdom of the Crystal Skull should have been.
Minor spoilers ahead.
A few weeks back, I found myself rewatching Crystal Skull on one of those many basic cable channels that plays Indiana Jones movies on interminable loop. I hadn't seen the film since its 2008 debut, so I was curious to see if the "nuke the fridge" scene was as egregious everyone seems to remember it.
And yes, Harrison Ford's refrigerator ride was still silly (although using a life raft as a parachute in Temple of Doom was outlandish too), but that's not what struck me about the scene. After Indy emerges from the fridge — not looking like fedora-wearing pâté — he pauses to observe the mushroom cloud rising behind him. This scene distills the problems I had with Crystal Skull. Indiana Jones, nemesis of melting-wax Nazis and turbo-aging mannequins, had become dwarfed by his own special effects.
With The Adventures of Tintin, Spielberg has doubled down on this fridge-nuking sequence, and crazily enough, it works. Freed from flesh-and-blood actors, the director and the animators at Weta Digital have license to toss Belgian cartoonist Hergé's boy reporter (voiced and motion-captured by Jamie Bell) and his dipsomaniac friend Captain Haddock (Andy Serkis) into chase sequences that would give Rube Goldberg the vapors.