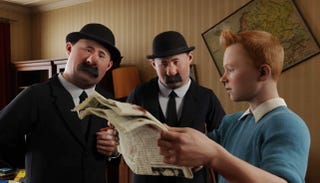 io9 recently caught up with actor Nick Frost (Shaun of the Dead, Hot Fuzz), who plays the pratfall-prone Inspector Thomson in Steven Spielberg's The Adventures of Tintin. Frost filled us on the motion-capture process, potential upcoming projects with longtime collaborator Simon Pegg, and what it's like to play a Thompson twin (and no, we're not referring to the ones who sang "Hold Me Now").
Thomson and Thompson have a very slapstick brand of humor in The Adventures of Tintin. What was it like filming their scenes on a motion-capture set?
Simon [Pegg, who plays Thompson] and I spent three weeks just training. We had a guy there, Terry Notary [who played the aliens from Attack The Block], who's probably one of the finest movement coaches in the world, he's worked with Cirque du Soleil.
They hired a studio out down in Culver City and every day we went for six hours and we took our jackets and bowler hats and canes and we walked in unison! Everything we did was exactly in time.
Were you familiar with the characters when you came aboard Tintin?
Yes, when you're from Europe, Tintin is everywhere. I was a fan of the cartoon series, that really was my entry to the world of Tintin. I really enjoyed the moon landing stories. I love the design of the rocketship, the cigar with the prongs on the bottom.
How was it interacting with the Snowy puppet on set?