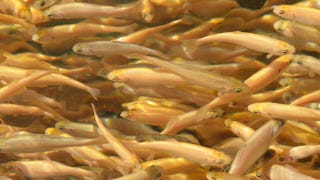 When we domesticate animals, we alter their evolutionary development to favor the traits that we find most desirable. Usually, that process takes hundreds, even thousands of years. But fish hatcheries can scramble a species' genetics in a single generation.
In fish hatcheries, thousands of young are born in a tightly enclosed space, a situation utterly unlike the wild rivers to which the species is adapted. We've known for a while now that, when hatchery fish are returned to the wild, they often prove significantly weaker and less fit than their wild-born counterparts, and they have significant trouble interbreeding. That's especially worrisome for threatened fish populations, where an influx of weaker genes could spell disaster.
But what's behind this sudden weakness in hatchery fish? Three major possibilities have been put forward, and researchers at Oregon State have conducted a 19-year study to find out which one is correct. The first is the most straightforward: there are some environmental factors in the hatcheries that weaken the fish born there. The second is our old friend inbreeding - the hatchery fish are forced to breed in close quarters, and which means lots of potential breeding with close relatives that, over a few generations, weakens the population's overall fitness.