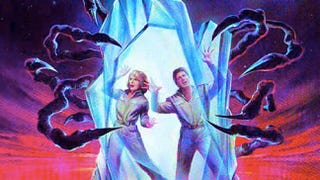 The leads of the Star Wars and Star Trek franchises have come to verbal blows as of late, and a certain mellifluous Enterprise helmsman has attempted to ameliorate the situation. What this public spat ignores is that there's a superior Star film out there, one that eschews flights of fancy and makes your appreciate the grim, icy mechanics of our lousy reality. I am, of course, talking about the 1986 extraterrestrial-flan masterwork Star Crystal.
As you may have noticed, William Shatner fired the opening salvo back in September, which Carrie Fisher returned her own riposte. This in turn prompted a recent conciliatory video from George Takei, who urged Trek and Wars fans to focus their vitriol on the funfetti-pigmented wampyrs of Twilight.
Now, I'll be the first to admit that Mr. Takei's honeyed pipes can make even the most wretched topic eminently listenable. But rallying against Twilight seems, well, so 2010.