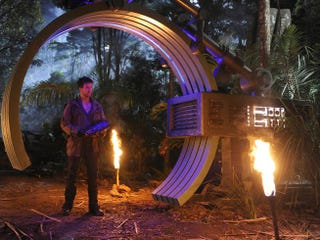 I kind of love Terra Nova — there's something terribly endearing about a show that aims so doggedly at "epic," only to fly off in slightly random directions instead. And I would still watch Stephen Lang acting opposite a collection of inflatable rubber dinosaurs and brain-damaged half-deaf ex-Aerosmith roadies.
Spoilers ahead...
Nevertheless, last night's episode was just uncommonly cheesy. Largely thanks to the show's new uber-villain, Lucas Taylor. Plus once again, shocking revelations lead to almost no consequences. Also, the show's two strong female badasses — Mira and Wash — have been completely relegated to "flunky" status. (This was especially noticeable with Wash, who found the Sixer mole after Shannon had tried and failed several times — only to have Shannon steal the credit and boss her around.)
But most of all, last night's episode featured some of the greatest dialogue the show has ever seen. Here are our favorite snippets:
"It's a long way down. You'll do it or I'll toss your mother over the side, and she'll find out just how far it really is. So you better get moving, Bucket."
Lucas Taylor proves how sinister he is, while "Bucket" worries about her poor sick saintly mother. What I love about this line is that Lucas starts out with an implied threat: "It's a long way down." And then he decides that was too subtle. So he clarifies: "I mention that it's a long way down not just for informational purposes, but so that you'll understand that I'm going to throw your mother off." And then he decides that was still too indirect, so he adds a further clarification: "And then she'll be able to find out for herself how far down it is, because I will give her a tape measure before I throw her off. Maybe one of those ones from the Hardware Store, that she can hook onto the side." Then he adds, for further emphasis, that this threat is not just general, but is intended to encourage her to get moving. Nice use of the nickname "Bucket," too. Because it's sinister and belittling.
"He wants to keep our issues in the family. The two of us, we suffer from a Shakespearean relationship, that borders on Greek tragedy."
Later, in another one of Lucas and Bucket's 1000 scenes together, he spouts off my absolute favorite line of dialogue of all time. I love that it's not just Shakespearean, but it borders on Greek tragedy. Because just being Shakespearean by itself wouldn't be cool enough — but if you mention both Shakespeare and Sophocles, you get Triple Culture Points. What I really love about this line is that it tries to ascribe some epic significance to Lucas' daddy issues, but only succeeds in making them seem more petty and overblown. (I know, I already remarked on the wondrousness of this line yesterday.)