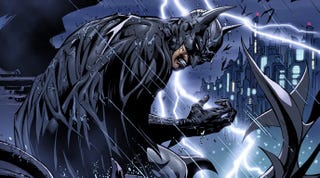 Batman's appearance is intended to provoke superstitious cowardice among the criminal element of Gotham City — but it's also become a part of our culture. The bat-ears, cowl and dark silhouette are instantly recognizable. And when you think "superhero," Bruce Wayne's cape and cowl are among the most likely images to come to mind.
But there's no one style of Batman that dominates our culture — he's changed tremendously over the years, and a handful of artists have put their design stamp on Bruce Wayne. The fact that Batman still rules all our worlds is in large part due to these great artists.
Top image: Tony Daniel.
Thanks to Cyriaque for the suggestions!
Dick Sprang
Sure, Bob Kane gets all the credit for creating Batman, but other artists did more to define the Caped Crusader for the ages — chief among them Dick Sprang. Sprang, who started working on Batman when he was just in his early 20s, was one of the main Bat-artists for the first 20 years. And he helped create what many of us consider the "classic" look of Batman — beefy and athletic, with a chunky head and a totally square jaw. As Cloud 109 puts it, "Sprang threw... naturalism out the window and dispensed with a waistline altogether. In Sprang's Batman, the chest erupts from the utility belt, figures don't run, they leap and everything seems to inhabit a high octane adrenalin charged world."