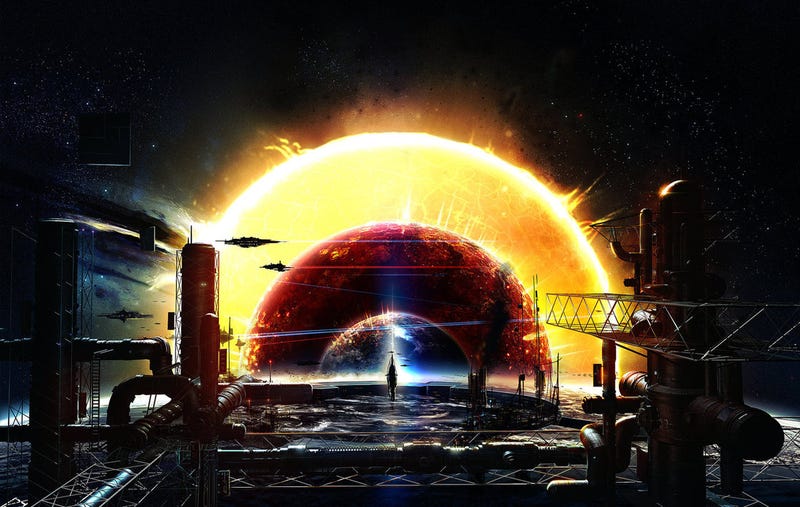 There's only one thing we know for sure about the future: It'll be weird, and you can't really prepare for it. Just imagine trying to tell someone in 2000 how to prepare for life in 2011. But luckily, there's one surefire way to brace yourself for another round of future shock: by reading a slew of great satires, about people trapped in weird and incomprehensible worlds.
So if you really want to future-proof yourself, here are 10 satirical novels that could help.
Top image: Magrathea by Microbot 23 on Deviant Art.
1. Infinite Jest by David Foster Wallace
David Foster Wallace's masterpiece takes place in a twisted dystopia where the calendar years are named after corporate products, and apocalyptic imagery is everywhere — including in Eschaton, a weird kind of tennis game that simulates nuclear war. Against this backdrop of oppressive weirdness, Wallace explores themes of addiction and self-destruction, including the novel's probable protagonist, Hal, who tries to control his marijuana intake but winds up becoming too addled to speak. (This is not a spoiler, it's in chapter one.) And then there's the Entertainment — a movie so entertaining that people watching it become unable to work or to do anything meaningful. It's one of those novels that's difficult to summarize, but when you become immersed in it, you emerge with a sense that you're staring into the heart of the intricate weird structure that wrecked Hal Incandenza. At the very least, you might finish Infinite Jest with a bit more heightened awareness of your own tendency to self-destruct in the face of all the strangeness.