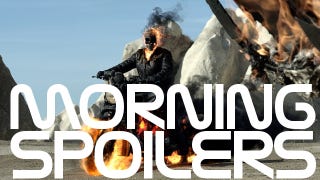 Ben Kingsley might join the cast of the Ender's Game adaptation. Director Peter Berg explains why you should take the Battleship movie seriously. Fox executive Tom Rothman promises they're not messing around with their new X-Men, Daredevil, and Fantastic Four movies.
All that plus Sinestro actor Mark Strong wants to do Green Lantern 2, Norman Reedus explains how Sophia's fate will affect Daryl on The Walking Dead, Ryan Murphy drops a ton of spoilers for American Horror Story, Fringe is casting an elderly scientist, and get ready for a science fiction thriller about identical septuplets!
It's spoilers all the way down!
Top image from Ghost Rider: Spirit of Vengeance.
The Dark Knight Rises
The viral marketing campaign is officially underway, and apparently it's all leading up to something called "Operation Early Bird", which was mentioned in the documents released yesterday. There's a site, OperationEarlyBird.com, which simply features a countdown timer that reaches zero in about four hours from now. So...watch that space, I guess, if that's the sort of thing you're into. [FirstShowing.net]