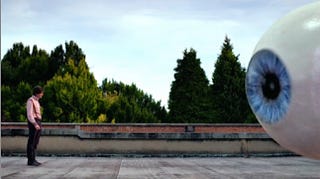 A monster doesn't need limbs or appendages to be great. No, sometimes all the being needs are ample curves to strike fear into the hearts of its foes. Here are ten of our favorite circular beings, and be forewarned that there's a NSFW creature or two among the bunch.
10.) Clifford Simak's They Walked Like Men (1963)
In this scifi novel, aliens that can take the form of bowling balls — among several transformations — end up rolling their way toward global conquest.
9.) Rudy Rucker's Sex Sphere (1983)
In this wonderfully weird novel, aliens assume the form of floating globs of genitalia to bond with human hosts. Once they connect, humans are thrust into an orgiastic fantasy world. This NSFW painting at left was created by Rucker himself. Truly an image that embeds itself into your skull. May or may not have inspired cartoonist Johnny Ryan's character Fuckball (also NSFW).