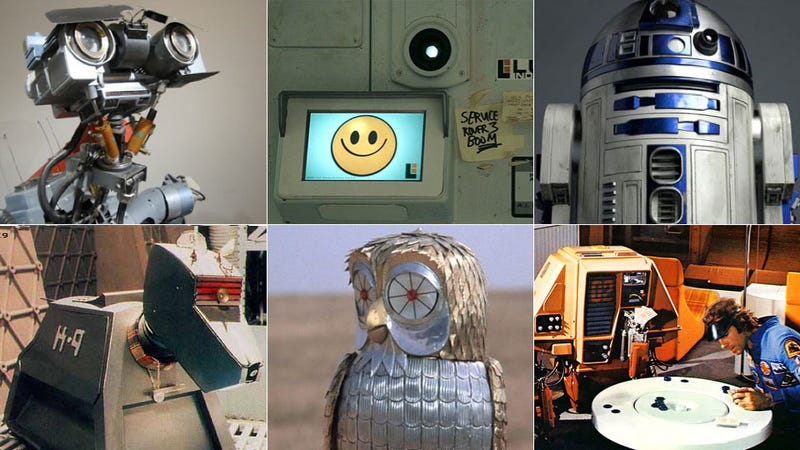 Cute robots have been a fixture in the pop culture landscape, ever since C-3PO and R2D2 crashed on Tatooine in the original Star Wars — but there have been cute robots in pop culture for way longer. The history of cute robots is a proud and totally cuddly one, full of beeping, blooping noises.
Here's our complete history of cute robots, from 1745 right up to 2011. Note: We're not including any androids, or any robot men or women, unless they're cute and cartoony, and ideally kind of small. So for example, Twiki is on the list, but not David from A.I.
Before 1970
Jacques de Vaucanson's defecating, robotic duck (1745)
One of the earliest known automata, this duck could flap its wings, stretch, and eat and digest grain. And you could actually see the duck's intestines moving, from the outside. There were something like 400 moving parts in each wing, and since the duck is now missing, it remains a bit of a mystery.
Tik-Tok from Ozma of Oz (1907)
Tik-Tok is sometimes called the first robot in literature, although the Tin Man preceded him, and so did the mechanical man in The Motor Valet, a silent film from 1906. Unlike some of these other early robots, Tik-Tok is definitely cute and cuddly, complete with mechan-istic hal-ting speech. He works by clockwork and has a tendency to wind down at the worst possible moment.
Volto from Robot Wrecks (1941)
There were other mechanical men in pop culture after Tik-Tok, including the 1921 movie The Mechanical Man and Quality Comics' Bozo the Iron Man in 1940. But this 1941 Our Gang short film is especially endearing, for some reason.
Elmer and Else (1949)
A pair of real-life robotic "tortoises" who could avoid obstacles and exhibit signs of artificial intelligence, created by Dr. Grey Walter, a neuroscientist.
Astro Boy from Astro Boy (1951)
The most famous, and the greatest, of all the Pinnochio-bots. He's a robot boy who was created to replace a dead human boy, but now he fights for justice with his boot jets.