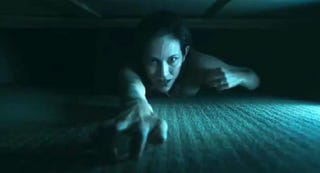 Thank Baby Jesus for Stephen King: his new horror miniseries is almost the only thing on television that's not Christmassy this week. The Christmas specials do include some fun new episodes of Adventure Time, Eureka and Warehouse 13, though. And American Horror Story is ramping up to its shocking season finale with more rubber-suited insanity.
Plus some of the holiday-themed badness will at least be amusing. Like a TV movie about Santa's daughter discovering that "it's hard to tell the difference between naughty and nice." And another TV movie where Colonel Tigh defeats an evil snowglobe. Here's how to make the most of holiday TV this week.
Today:
Cartoon Network has Christmas-themed episodes of its usual Monday night cartoons, starting with Johnny Test at 7 PM, in which:
Johnny has to move from the "naughty" to the "nice" side of the list if he wants to get the extreme snowball making machine he wants for Christmas.
That's followed at 7:30 by a new Amazing World of Gumball. Then at 8 PM, there's a special half-hour episode of Adventure Time, "Holly, Jolly Secrets":
Finn and Jake try to discover the Ice King's evil secrets before he finds them.
Watch a brand new Adventure Time clip above. That's followed by a new Mad at 8:30.
Syfy has the second half of its Neverland miniseries at 9 PM, in which we finally get to see how Peter becomes "Peter Pan." What did you think of part one last night?
And then at 10 PM, Science has a new episode of Meteorite Men.
Tuesday:
Syfy is airing holiday episodes of Eureka, Warehouse 13 and Haven tonight. First up, on Eureka:
The quaint town of geniuses is transformed into animated versions of themselves. Sheriff Carter (Colin Ferguson) and Allison Blake (Salli Richardson-Whitfield) are secretly planning the perfect holiday surprise for their kids. But a mysterious kaleidoscopic wave of color crashes over Eureka, leaving the entire town and its inhabitants animated...

Emmy-Award winner Jim Parsons is set to voice Carter's long put-on Jeep, who's had enough of his owner's cavalier attitude towards him. Edward James Olmos will voice Rudy, the leader of a pack of sled dogs who befriends Deputy Andy. Chris Parnell also guest stars as Dr. Noah Drummer, reprising his role from last year's Christmas special. Matt Frewer will be featured as an animated, altered version of himself, and helps Jo (Erica Cerra) make an important realization about her tough-girl personality.
And then at 9 PM, Warehouse 13 has a new holiday episode, "The Greatest Gift."
Pete inadvertently activates an artifact that creates an alternate reality where he never existed. To restore reality as he knows it, Pete must track down his friends, who have new lives and no memory of him.
I watched it the other day and it's pretty fun. You can read our interview with star Joanne Kelly here.