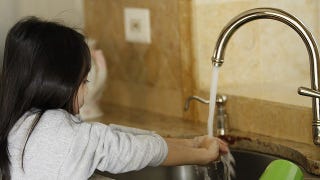 Evolutionary psychology has a lot of ideas that are, well, pretty nutty. The latest theory argues that social prejudice can be fought by being more careful about the spread of disease. It's definitely nutty...but it might also do some good.
The underlying theory is that ancient humans once had to be extremely wary of strangers who might carry disease. While more welcoming groups might occasionally catch a deadly plague and die out, the more distrustful groups were much more likely to survive any outbreak, and so social prejudice against those who are different essentially evolved as a sort of population-wide immune system.
To be fair, this isn't the most ridiculous argument I've heard from evolutionary psychology (though that's not saying much). But it is the sort of thing that you kind of have to take on faith at this point - there really isn't any way to back it up with direct evidence, and there are plenty of alternative ways to explain the same basic behaviors.