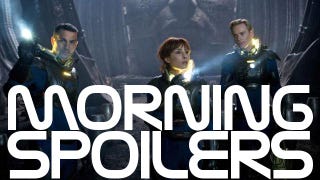 The head of 20th Century Fox really doesn't want you calling Ridley Scott's Prometheus an Alien prequel. Tom Cruise joins another sci-fi epic. José Padilha discusses the themes of his Robocop reboot, while Emile Hirsch talks The Darkest Hour.
Spoilers from here on out!
Top image from Prometheus.
The Dark Knight Rises
I know we've been talking about and reading ridiculous synopses for this movie's prologue for what feels like decades, but Warner Bros. has only now actually officially confirmed the thing is even happening. As you might imagine, their press release didn't reveal any official details, but it did feature this general quote from Christopher Nolan:
"Our experience on 'The Dark Knight' shooting and projecting IMAX 15 perf 65mm/70mm film was inspiring. The immersive quality of the image goes beyond any other filmmaking tool available, and in revisiting Gotham, we were determined to shoot even more of the movie in this unique format. Giving the fans an early look at an IMAX sequence is a great way to draw attention to what I believe will be an incredible way to experience our story when it comes out next summer."
I think all that can really be gleaned from that is that the prologue will be something that shows off the IMAX cameras, which might suggest something more action-oriented, I guess. Anyway, check out the link for the official list of North American IMAX theaters where the prologue will play before screenings of Mission: Impossible - Ghost Protocol. [ComingSoon.net]
---
Prometheus
20th Century Fox head Tom Rothman weighed in on the seemingly endless debate about whether this movie is an Alien prequel or not. While he seemed willing to concede that the movie does take place in the same universe as Alien at a point in time before the original movie, he bristled at the use of the word "prequel" - and considering the general track record of prequels, I suppose that's understandable:
"It is not [an 'Alien' prequel]. It's not. Hand on heart. [On it being in the same universe] I suppose if you want to definitionally be that literal, but it does it a great disservice. I will tell you, here's the way to think about it. If you looked at the whole movie, 95 percent of it is entirely unto itself. Ridley said it right: If you're a fan and you look closely, you'll spot strands of DNA."
Here are high-res, text-free versions of the images that recently appeared in Entertainment Weekly. [ComingSoon.net]