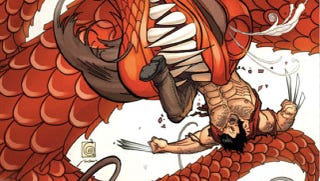 Hey, it's comic book Wednesday tomorrow! Hey, here's a picture of Wolverine getting bitten in the crotch by a giant dragon! Is this a coincidence? Of course not. Let's see what's in stores tomorrow...
First Issues
For Marvel, Kathryn Immonen helms the one-shot Avengers Origins: Thor. DC Comics is releasing a new miniseries based on the video game Uncharted and a relaunch of Nick Spencer's superhero series Thunder Agents. DC is also reprinting Dwayne McDuffie's Batman: Dont Blink and Brian Azzarello and Joe Kubert's Sgt. Rock: Between Hell And A Hard Place.
Grab Bag
On Wednesday there are new issues of Uncanny X-Men, Daredevil, FF, Angel and Faith, Spaceman (here's our exclusive preview of that great scifi book), Wolverine, Star Trek, Fables, and Jack Avarice Is The Courier (exclusive preview here).