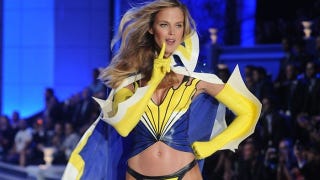 This week on television, get a brand new insight into the history of Star Trek with the son of creator Gene Roddenberry. Syfy tries to give a radical new look at Peter Pan with a new miniseries.
But that's not all! Also, Victoria's Secret tries to reinvent the superhero costume once and for all. The Muppets squander all the good will they just earned, with a craptastic holiday special. Adventure Time's Jake and Supernatural's Bobby are both facing imminent death. The truth about UFOs is revealed, for real this time.
Check out a ton of clips and details for this week's television, below.
Today:
Cartoon Network has a new Johnny Test at 7 PM, "Cool Hand Johnny." That's followed at 7:30 by a new Amazing World of Gumball. Then at 8 PM, there's a new episode of Adventure Time, "New Frontier":
Jake has a dream that he believes reveals to him when his last days are, and when the events that occurred in the dream begin to unfold in real life, Finn intervenes to try and stop the twisted nightmare from becoming a reality.
And then at 8:15, there's a new Regular Show, followed by a new Mad at 8:30. Check out an "animatic" from the Adventure Time episode.
There's an all-new Terra Nova on Fox at 8 PM, "Now You See Me." Here's what happens:
Taylor and Mira square-off in the jungle where he learns more about her plans and about his son. But then they both face a pre-historic enemy they must conquer together. Meanwhile, the "Sixer" mole scrambles to cover its tracks as Terra Nova goes on lockdown and Jim closes in. Also, Zoe faces a difficult decision as the Ankylosaur she has been caring for grows rapidly.
And here's a featurette and four sneak peeks:

And then at 9 PM, House has its midseason finale on Fox, "Perils of Paranoia."
Tuesday:
At 10 PM, instead of yet another Unforgettable, CBS is showing the superhero-themed Victoria's Secret Fashion Show, which we already mocked here. If a whole hour of hot ladies prancing around in the worst superhero costumes ever made is your thing, then this is a can't-miss spectacle.