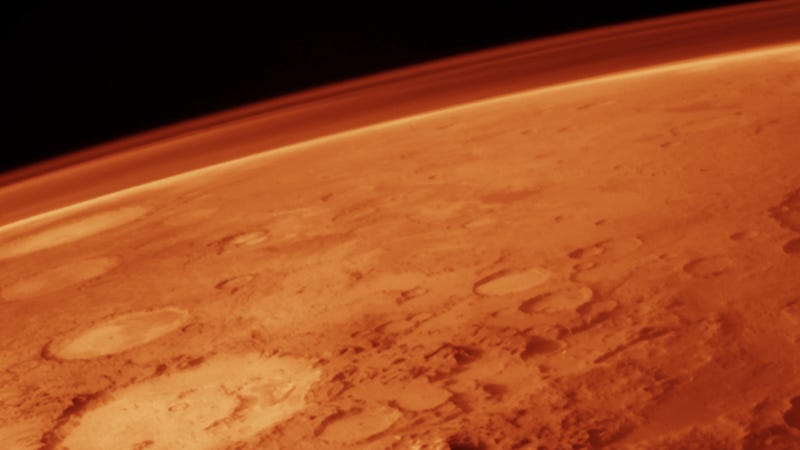 For decades, humanity has been launching missions to Mars, in hopes of making sense of the enigma that is our solar system's most Earth-like planet. And as with all good mysteries, many of our investigations have simply led to more questions.
Among the most pressing of these questions is whether Mars is, or ever has been, an environment hospitable to life — and on Saturday, NASA's Curiosity rover embarked for the Red Planet to determine precisely that. But the question of whether life ever thrived on Mars is just one of the Red Planet's many mysteries. Here are ten more that we look forward to finding answers to in the years ahead.
10. The Martian Dichotomy
Also known as the hemispheric dichotomy, the Martian dichotomy is the conspicuous geological contrast between the planet's northern and southern hemispheres. Simply put: the planet's Southern hemisphere has a rugged, crusty surface, while much of the planet's Northern hemisphere remains relatively smooth. The Northern hemisphere is also, on average, about 1-3 kilometers lower in elevation than the Southern hemisphere. The planet's smooth Northern lowlands and craggy Southern highlands are illustrated in the image featured here.
Scientists are unsure what gave rise to the hemispheric dichotomy, though the relative lack of impact craters to the North has led many of them to conclude that the largely unblemished terrain of the Northern hemisphere is significantly younger than that of the pocked Southern highlands. Possible explanations for a young-looking Northern hemisphere include plate tectonic processes and impact — either in the form of multiple, smaller meteoric bumps, or a single "mega" collision with a pluto-sized body that would have effectively turned Mars' Northern hemisphere into a giant impact crater.
9. What is the source of Mars' methane?
Back in 2005, the European Space Agency's Mars Express spacecraft detected methane in Mars' atmosphere. (The image featured here shows concentrations of Methane discovered on Mars.) Here on Earth, much of our atmospheric methane is believed to be produced by life. But scientists don't think methane could have stuck around in Mars' atmosphere for very long; whatever produced (or is still producing) the gas probably did so within the last 300 years. Subterranean methane-producing microorganisms? It's one of the leading hypotheses, one we'd be happy to see substantiated, either by Curiosity when it starts roving in August, or by ESA's ExoMars spacecraft, designed specifically to analyze Mars' methane, and scheduled to launch in 2016.