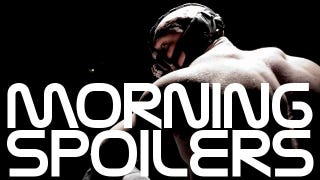 For old time's sake, we've got one last absolutely insane The Dark Knight Rises casting rumor... and it's a doozy. The Prometheus cast seems to disagree about whether this is an Alien movie. Tom Hiddleston reveals his Hulk-related Avengers injuries.
All that plus Kenneth Branagh says Patty Jenkins is the right choice to direct Thor 2, a synopsis of the next The Walking Dead reveals a major twist, Viggo Mortensen doesn't think he'll be back for The Hobbit, a World War Z cast member explains her character, and still more from the Doctor Who Christmas special!
Stuff yourself with some Turkey Day spoilers starting... NOW!
Top image from The Dark Knight Rises.
The Dark Knight Rises
Here's a silly and probably false but admittedly still intriguing rumor - someone claims to have taken a photo of an actor's trailer from the movie set that reads "E. PAGE - 'B. GORDON'", which conceivably means Ellen Page is playing Barbara Gordon. About all you can say in favor of this is that this Page did work with Christopher Nolan on Inception, and he does like working with alumni of his previous films, and this is maybe a brief cameo that could otherwise be kept secret.
Of course, this all falls apart if you think about it for more than a second. Even if we haven't learned everything about what goes on in this movie — it still isn't confirmed that Marion Cotillard is actually playing Talia al Ghul, although nearly everyone assumes that's the case at this point — we do know pretty much everyone who is in the cast, and any later major casting additions like Joseph Gordon-Levitt or Cotillard were rumored for months before they actually became official. Plus, you can check out the photo at the link, and it's the sort of thing that could be faked by someone with even basic PhotoShop experience. Add in that Ellen Page has been shooting another movie for the past month, and according to at least one commenter at the link, the New York set doesn't even have actor's trailers... well, I'd say there's almost certainly nothing to this. Although if we are casting random alums of previous Christopher Nolan projects, I have some fun cameos in mind for Guy Pearce and David Bowie. [Dark Knight Rises Rumors]
Gary Oldman explains the peculiarities of working with the IMAX cameras:
Well we shot, obviously Wally Pfister [the director of photography] and Chris [Nolan] shoot film. The IMAX camera, it's a strange thing. There's only so much film that you can put through the gate, you get two takes from a roll I guess. The thing is, it's very loud. It's a very noisy piece of equipment and it's quite cumbersome, it's quite a large — you don't hold an IMAX camera, I mean you can steadicam it. But of course you have to loop, you have to dub everything you do on the IMAX because you can't hear the dialogue."
He revealed a large portion of the film was shot in IMAX, far more so than in The Dark Knight, though presumably it's still mostly the action scenes that were shot this way. [Collider]
---
The Avengers
While describing various injuries from the shoot, Tom Hiddleston hints at the details of a fight between the Hulk and Loki:
"It's like being in a rugby team. We used to pull up our shirts with me saying 'Look at the size of this bruise on my hip' and then Chris Evans pulling down his trousers going, 'Dude, you think that's bad – look at my ass.' The worst was I smashed my elbow during a tête-à-tête with Mark Ruffalo's Incredible Hulk. It really hurt."
[Scotsman]
---
Thor 2
Thor director Kenneth Branagh praises his successor, Monster director Patty Jenkins:
I think it's a great choice and I'm really excited about that, and I think Marvel have always been so imaginative about the way they match these projects with directors who may have very particular things to bring to them but may not be superficially a natural kind of fit. But my gut tells me this is a tremendous choice, so I'm very excited. I'm also thrilled that the second movie is being made, and I just think her in combination with those actors is such a terrific thing. And I think she'll get on in the way that I did with the Marvel guys, which was a very happy, creative collaboration.
[Vulture]
---
Star Trek 2
Director J.J. Abrams confirmed that he's talking to Benicio del Toro about playing a villain, but that's about all he was willing to reveal:
"Well, we're just in negotiations, we're in discussions. "It's not even negotiations - just in discussion. But I would love to work with him. I've wanted to work with him for years, and this felt like a good opportunity. It's too early to talk about what the role is, but he's such an amazing actor. He's so versatile. He could sort of do anything. Except play Uhura. I wouldn't buy that."
He did however say that the character in question would be revealed just as soon as an actor is cast, and Abrams is hopeful that del Toro will indeed play the part. [MTV Movies Blog]
The movie is reportedly set to film in 3D for a release date of May 17, 2013. [Deadline]
First movie composer Michael Giacchino has confirmed that he will be back to score the sequel, though he doesn't know much of anything about what direction the sequel will head in. [ComingSoon.net]
---
Prometheus
We've already seen the photos from the Entertainment Weekly article on Ridley Scott's return to hard science fiction, now it's time for some key quotes. Just to make everything clear as mud, Michael Fassbender says "There's definitely a link to Alien... There's creatures in it that you'll recognize," while Charlize Theron says, "I think people should really let go of the idea that it's an Alien film." Of course, Fassbender may be referring to some other creatures we might recognize, while Theron might mean that more in a philosophical sense that this will depart from the style of previous Alien movies, even if the Xenomorphs themselves do put in some manner of appearance. Your guess is as good as mine at this point. [EW]