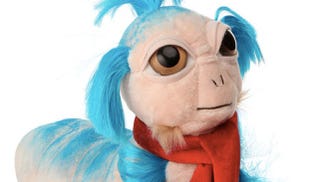 This plush worm from Labyrinth ($30) isn't the same as having your own personal Jareth. But then again, what is?
This arcade alien alarm clock ($18, Urban Outfitters) will remind you to go down to your laundromat and get more quarters. Compliment with a plug-and-play Space Invaders TV unit ($44).
This Goonies laptop sticker ($10, Etsy) confirms your fidelity to such enterprises as statute-gluing and octopus-fighting.