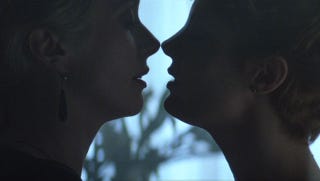 Sure, Twilight: Breaking Dawn Part 1 broke box office records, having the fifth best opening weekend of all time. But Breaking Dawn still doesn't break our hearts the way some other vampire tales do.
Here are 10 vampire stories that are more romantic than Breaking Dawn.
The Hunger screencap via Ooh1a1a on Livejournal.
1. The Hunger
What it's about: When Miriam (Catherine Deneuve) finds her longtime consort John (David Bowie) rapidly aging, she finds a new companion, the beautiful Sarah (Susan Sarandon). But Sarah begins to have doubts about the vampiric lifestyle.
Why it's romantic: Like many vampire relationships, the courtship between Sarah and Miriam is doomed from the start, but beautiful and dazzling while it lasts..
2. Dracula (1979)
What it's about: Based on a Broadway adaptation of Bram Stoker's novel, this film stars Frank Langella as Dracula and Laurence Olivier as Van Helsing. Langella's Dracula is as much a victim of his condition as he is a predator, and he falls in love with Lucy Seward, even marrying her and taking her to Transylvania to be his bride.
Why it's romantic: Instead of a terrifying Dracula who exults in his condition, Langella gives us a sympathetic, tragic vampire, who suffers and cares about his victims. The idea of Dracula as love story is picked up in Francis Ford Coppola's 1992 Bram Stoker's Dracula.
3. Poppy Z. Brite's Lost Souls
What it's about: Steve and Ghost are both members of the band Lost Souls, based out of Missing Mile, North Carolina. And they share a deep friendship, which turns into becoming lovers in a follow-up short story.
Why it's romantic: The relationship between Steve and Ghost is dripping with sexual tension and unfulfilled longing. Image by Anna Shelkova.
4. Thirst
What it's about: San-hyeon is a Catholic priest who volunteers to test an experimental vaccine for the deadly Emmanuel Virus — but it turns him into a vampire, and he starts lusting after Tae-ju, the beautiful wife of his childhood friend, who longs to escape from her stifling family life. Soon, she's dragging him further down a dark path.
Why it's romantic: Thirst is a queasy, horrifying story, yet the love story between San-hyeon and Tae-ju never loses sight of these characters' complexity, and the desperate need that they both feel. The relationship between these two characters is a big reason why Thirst gets under your skin.