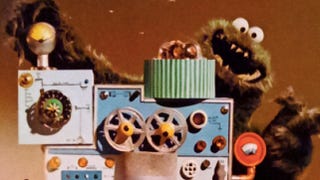 It took several decades before the Muppets became the jovial mop-puppet hybrids we know and love today. Before they hung out with Alice Cooper and hosted wrestling competitions, the Muppets lived in a sometimes unsettling world full of hungry dismembered heads, Cookie Monster selling IBM computers, and Kermit extolling the virtues of pig meat.
Fortunately, thanks to the miracles of the internet (and the Henson Company YouTube channel), we can sample some of the odder early moments from the Muppets' career. Also, here's some more pre-Muppet Show moments that may pique your interest:
- The awesomely dystopian 1967 IBM film The Paperwork Explosion.
- Henson's surreal 1969 TV movie The Cube.
- His 1966 Academy Award-nominated short film Time Piece.
- The 1969 Wizard of Id TV pilot.