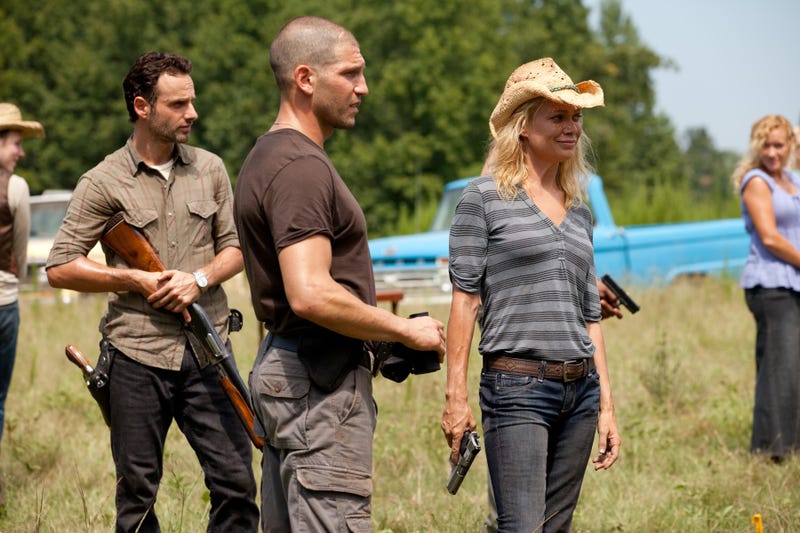 Tonight's episode of The Walking Dead — "Secrets" — revved up everything from zero to crazy. The show tabled the interminable forest wandering to put almost every single character on a collision course with one another.
It wasn't perfect, but it was a step up from zombie Walden we've been treated to lately. Let's break down the episode's main conflicts, like some sort of post-apocalyptic episode of Maury. Spoilers on!
1.) Rick's Gang vs. Hershel
After learning that Hershel keeps a barn full of zombified, chicken-gobbling family members on his property, Glenn immediately spills the beans to Dale, who then not-so-subtly imparts this knowledge to Hershel. Barring his pie-in-the-sky hopes of curing his undead family, the country veterinarian is no idealist when it comes to Rick's gang. He wants them to get off his land, as he not-so-subtly tells Lori. Again, I don't blame Hershel — they're a bunch of heavily armed, clumsy loons. He's also confides in Dale that the rest of the gang could overreact when he discovers his necrotic nature preserve. Someone like...
2.) Shane vs. Dale
I can't warm up to Dale. He's the goddamn Mary Worth of the gang, meddling in everyone's business. And even though Shane's a total nutter, I loved how Jon Bernthal told the bearded busybody to STFU after Dale suggested Shane GTFO. To paraphrase:
Dale: You are totally canoodling with Andrea, I saw you point your gun at Rick a zillion years ago, and you killed Otis. I'm aware of point #1 because my Sex Sense is tingling and point #3 because I am a wellspring of timeworn wisdom. What do you have to say about that, tough guy?

Shane: I will wear your fucking skull as a hat and your dumb hat as an ironic hat for my new hat.

Dale: I totally did not think this through.
Can someone please GIF the last shot of Dale's face in that scene? That man experienced an enema of fear.
3.) Shane and Andrea vs. The World
They consummated their wild-eyed lust after Shane taught her to aim in a suburban zombie shootout. As a side note, I really enjoyed the creepiness of the burnt-out house scene. You got the immediate, "this was a terrible idea" sense of dread we haven't seen since the beginning of Season 2.
Is this the beginning of Team Shane? I can see Darryl joining Team Shane after Rick left behind Merle, but Andrea did shoot our Orienteering Apollo in the head. So unless the bullet shut Mushroom Merle up, Darryl's still a wild card.