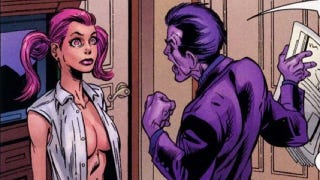 We're all excited for the gritty TV adaptation of Brian Michael Bendis' Alias, which follows fallen superhero Jessica Jones after she's brutally violated and manipulated by the Purple Man. How will this ultra-dark, profane comic translate to network television? We asked the creator of the TV show, Twilight: Breaking Dawn writer Melissa Rosenberg.
She gave us an update on the TV show's progress, and explained why Luke Cage's background will be different. She also told us why the Purple Man might not actually be purple. She also shared a ton of insights about working on Breaking Dawn, and her other TV series Afterthought.
I noticed you guys cut the "Why am I covered with feathers line" from the book (although there was a reference to the line itself.) Why was that?
Melissa Rosenberg: The significant difference between the book and a movie is that you don't have to say things, you see them. That is always the objective for me, as a screenwriter — to convey as much as possibly cinematically, visually. I think people often think of screenwriting as just putting the dialogue in. And actually I tried as hard as possible to create the scene and let the actors tell the story. To set up a situation where they're conveying it, where the camera is conveying it. Because it is a visual medium. So it wasn't necessary, the line, because you see her covered with feathers, we see her react to that.
What was the most important thing you fought to keep in the movie for the hardcore fans of Twilight?
I didn't have to fight for much, because we were all on the same page. We all understood that there's three essential things that we have to deliver or the fans would come after us with tar and feathers. And that was the wedding, the honeymoon and the birth. This is what Breaking Dawn: Part 1 is about, you have to deliver those. But obviously we didn't have to fight for those, we were already on board.
What was the most difficult part for you to translate for the film?
It was really that section between when she finds out she's pregnant, and when she gives birth. That third quarter of the movie. She's very actively trying to stay alive, but what that looks like is someone lying around dying. How do you keep the tension up, how do you make that interesting, how do you make it not stagnant?
So how do you do that?
You take the Jacob story, and you weave it in and out — if one considers that we did that successfully. That's what I did, you have this Jacob story which is all about him leaving the pack and the tension with the wolves, the wolves want to come after him and the baby. And you have all of this stuff that is a bit more downplayed in the book. We just brought it to the front and kept it going, kept that alive.
You're very attracted to strong female leads, so let me ask you what attracted you to the lead women in Earthseed, Jessica Jones and Afterthought? And how are they different? Actually, is there a female lead in Afterthought? I just assumed there was, because it's a Tall Girl Production?