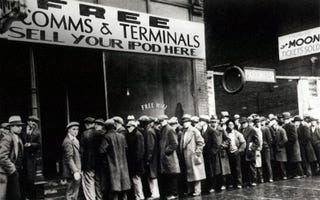 Some economists are referring to our current economic malaise as the "Lesser Depression" — but it could be getting worse soon. Europe is unraveling, China's October output fell off a cliff and the U.S. Supercommittee is about to push a round of austerity.
It's not too late to start unleashing your inner survivalist, in case things get really bad. Forget maintaining your current shiny standard of living — how will you feed and clothe yourself, in the worst case scenario? In an article that originally ran at io9 in 2008, here's a list of things you can do now to brace yourself.
Top image designed by Stephanie Fox.
Avoid debt at all costs. If anything, you'll want to save up as much money as you can, in case you have to live off your savings. Thanks to recent changes in bankruptcy law, it's much harder than before for an individual to declare bankruptcy. So if you're stuck in debt with little or no income, you'll still be working for the banks. And as this guy points out, the banks will be hurting, so the moment you miss a payment, they'll be quick to try and liquidate your collateral for whatever they can get.
Get out of your mortgage before the housing market collapses any further. As this site says, if you paid $300,000 for your house and it sells for $200,000, you could end up not owning your house and owing the bank $100,000.
Buy some cheap land in a rural area. Build a house, or just get a used RV. Either way, make sure you own your home free and clear, so you can live rent-free and mortgage-free for as long as you need to.



Go off the grid. Get your own power generator — or, better yet, some of those solar helium balloons. Or some wind turbines. Don't be dependent on the power company to keep all your necessities running.