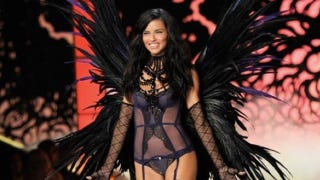 Last week, the $12-million, superhero-themed Victoria's Secret lingerie show graced New York with a cadre of ladies wearing nothing but capes, wings, tights, and meaningful gazes directed toward a non-existent dot somewhere on the horizon.
And even though nobody wore teflon or utility belts, the ladies had plenty of savvy methods of stopping crooks, like glow sticks, heels, and dazzlingly bright teeth.
But are any of their outfits field-worthy? From this sample below, I'd reckon a good 70% are. In the underwear industry, the term "superhero" is extremely flexible, like "cowboy" or "astronaut."
Just check out that nice lady above. She dressed up as Wolverine's haircut. Now Wolverine's haircut never fought crime solo, but it was integral to many thrilling adventures. Ergo, we'll be judging each of these ensembles according to a Crime-Fighting Appropriateness Score, the criteria of which is locked in a psychic bunker in my brain. Shall we?
First off, let's start with this dapper madam. She is dressed as Deathstroke the Terminator. I imagine that cape is bulletproof. I also really like how they catered to the Plymouth Plantation demographic and obscured her ankles. Have to maintain some mystery!
Grade: A
Is she supposed to be a superhero? Of course not. She's the chandelier in the Fortress of Solitude, which has no bathrooms.