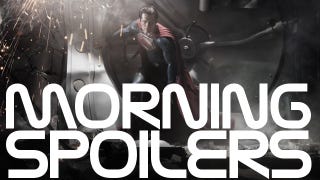 Andy Serkis reveals what it's like to shoot The Hobbit at 48 frames per second. Aaron Eckhart's I, Frankenstein casts an awesomely demonic villain. The director of The Host is making a post-apocalyptic train movie.
All that plus Tim Burton is headed to a most peculiar orphanage, tons of Game of Thrones cast interviews, Robert Kirkman teases The Walking Dead's midseason finale, True Blood casts it big new villainous vampire, and director Bill Condon promises lots more vampire sex in Breaking Dawn: Part Two.
Spoilers from here on out!
Top image from Man of Steel.
Man of Steel 2
This is coming from a supposed inside source, so take this all with a grain of salt — but Warner Bros. is reportedly happy with what they've seen so far of Man of Steel (of course, I'm pretty sure the same was said about Green Lantern), and the studio is now reportedly looking for someone to write the sequel. The main contenders are supposedly longtime Harry Potter screenwriter Steve Kloves, Clash of the Titans and Pacific Rim writer Travis Beacham, and, somewhat unexpectedly, writer-director Lawrence Kasdan, who hasn't written anything since that gleefully psychotic adaptation he did of Steven King's Dreamcatcher back in 2003, though he is one of the writers on Alex Proyas's upcoming Paradise Lost. Of course, the last time Kasdan took over writing duties for the sequel to a big science fantasy epic, it turned out OK. Anyway, none of this should be considered even close to legitimate until we hear more. [Think McFly Think]
---
The Hobbit
Gollum actor Andy Serkis described the experience of shooting the movies at 48 frames per second, as opposed to the traditional 24 frames per second:
"It's unlike anything I have ever seen before. The brain has become so attuned to watching films at 24 frames a second. This is something completely different. It's incredible. You feel inside it and surrounded by it. It's really great. People will not be disappointed."
Serkis also said the first trailer for the movie should be out around Christmastime this year. [IGN]
---
I, Frankenstein
Aaron Eckhart's post-apocalytic vigilante Frankenstein movie just went from ludicrous-sounding to... well, still pretty ludicrous-sounding, but also a little exciting, with the addition of the great Bill Nighy as the main villain. Specifically, the character is some sort of demon prince, which does seem like the sort of prince Nighy would play. Australian actor Socratis Otto has also reportedly been cast as one of Nighy's demonic henchmen. [Variety]
---
Miss Peregrine's Home For Peculiar Children
Tim Burton is reportedly in talks to adapt Ransom Riggs's novel, which follows a 16-year-old boy named Jacob to a mysterious island where orphans with fantastical powers once lived. Here's a full description:
It involves Jacob, a 16-year-old whose childhood was filled with stories his grandfather told him about an orphanage for unusual children. Among the residents: a girl who could hold fire in her hands, another whose feet never touched the ground, and twins who communicated without speaking. When his beloved grandfather dies unexpectedly but leaves a message behind for his grandson, the teen heads off to his grandfather's home on an isolated island off Wales. There he discovers the abandoned remains of Miss Peregrine's Home for Peculiar Children. It is in great disrepair and as Jacob explores its bedrooms and hallways, he can see the children were more than peculiar, they might have been there because they were dangerous. And he can't shake the feeling they are still lurking around.
[Deadline]
---
Snowpiercer
The Host director Bong Jooh-ho is working on an adaptation of the French graphic novel Le Transperceneige, or Snowpiercer as it's known in English — as we reported back in 2009. The story is set in a post-apocalyptic tundra, where the survivors of devastating climate change and world wars are on a long train journey through the wilderness, and the passengers quickly start to turn on each other. Oldboy director Park Chan-wook is producing. Bong Jooh-ho has already cast his The Host star Song Kang-ho as one of the characters, revealing "He isn't one of the lead actors, but he'll play a very attractive character like Han Solo in Star Wars." The movie is set to start filming in March 2012 in the Czech Republic. [Fangoria]