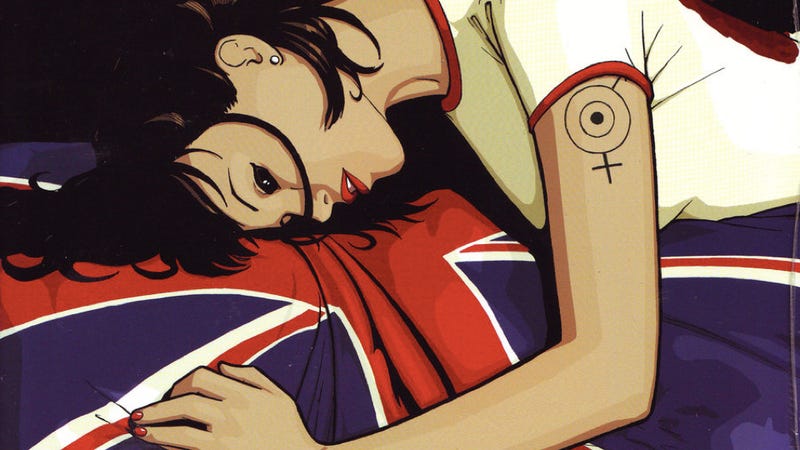 Giving graphic novels as gifts to non-comics readers can be hard — after all, there are only so many copies of Watchmen one can give before they stop being books and start becoming the construction materials for an Alan Moore-themed play fort.
But don't fret! Here are a bunch of easy-to-pick-up, (mostly) affordable, crackerjack graphic novels that run the gamut of science fiction and fantasy. Give out any of these graphic novels, and your loved ones will be praising your exquisite taste in funny books.
1.) RASL: Pocket Book One ($20)
For Fans Of: Jeff Smith's Bone
Smith's lush fantasy cartoon epic Bone makes a tremendous gift — indeed, you can buy the entire run in black-and-white paperback for $25 and color hardcover for approximately $100.
But for those Bone fans looking for more, the first half of Smith's universe-hopping noir RASL can be picked up for give or take two sawbucks. It's a gripping, adult read about a physicist-turned-art thief who steals Picassos from alternate universes. The series is still ongoing, so you'll sadly have to wait a few years for Pocket Book Two.
2.) PunisherMAX
($30 for the first two trade paperbacks)
For Fans Of: Garth Ennis' Preacher
Jason Aaron's done a wonderfully perverse job on this "real world" Punisher comic, which was once Garth Ennis' purview. Continuity's not a problem here — all you need to know is that the Punisher kills lots of nasty people.
In his first two pick-up-and-go arcs, Aaron has introduced a brutal and calculating take on the Kingpin and an absolutely twisted interpretation of the hitman Bullseye. The pencils by Preacher artist Steve Dillon will seal the deal for fans of Jesse Custeresque excess.
3.) The Incal
($100 on secondary market, despite being reprinted a year ago)
For Fans Of: Warren Ellis' Transmetropolitan
I have absolutely no clue why The Incal: Classic Collection is so damn expensive, but I'm guessing the 2010 print run flew off the shelves. But if money's not an object, Alejandro Jodorowsky and Moebius' seminal science fiction comic (which was almost an animated movie) is a classy buy.