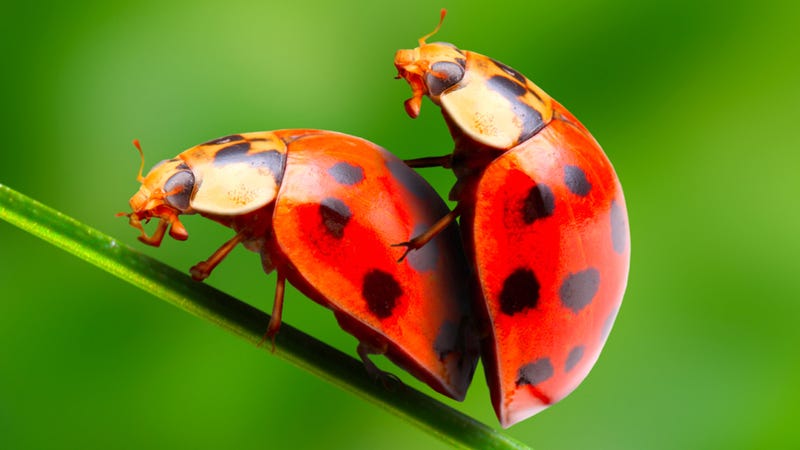 Sex is probably the most popular pastime in the history of life on Earth — which makes it all the more ridiculous that so many of us have such a mealy-mouthed way of talking about it. Take the expression "the birds and the bees," which we use to avoid speaking more explicitly about courtship and sex to our kids.
The irony behind this particular turn of phrase is that sex, despite being more or less universal in its end goal, is carried out in so many different ways across the planet's various species. So different, in fact, that if most people knew what sex was like for birds and bees, odds are they'd sack up and just talk about good ol' human penises and vaginas.
Here are ten bizarre facts you probably didn't know about sex in the animal kingdom.
10. Male macaques get off on noisy sex
Numerous investigations into the idiosyncrasies of primate coitus have shown that female macaques almost always shout loudly during sexual encounters. Until recently, however, the reasons for this had remained a mystery. Enter primatologist Dana Pfefferle and her team of primate peepers.
Pfefferle and her team observed mating Barbary macaques over a period of two years, and found that when a female macaque shouts during sex, it causes an immediate increase in the rate of pelvic thrusting by the male. The cause and effect is so strong that if a female doesn't cry out, the male has less than a 2% chance of ejaculating during the encounter (compared to 59% when she does holler). "[It's] quite weird," explains Pfefferle of her thrust-counting work, "but it's science."
9. Female Adélie penguins exchange sex for payment
You remember Adélie penguins, don't you? They're the antarctic birds that resort to thievery in order to build the best rock-nests possible for their eggs.