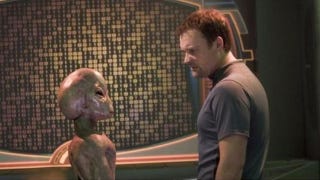 Is Stargate gone forever? The cancellation of Stargate Universe seems to imply that we've got a long ways to go until we see a gate on television again. We asked beloved Stargate actor David Hewlett, aka Dr. Meredith Rodney McKay, what the chances are for more Stargate.
And since he now owns most of the dismantled sets of SGU, he might have the answer.
In our recent interview with Hewlett about his upcoming Syfy monster movie Rage of the Yeti, we found out that after SGU was shut down, the actor took a few spaceship sets off their hands in Vancouver. He's still working on his behind-the-scenes scifi comedy series StarCrossed, so the abandoned sets could become pretty useful if StarCrossed ever gets off the ground. (And Hewlett did let it slip that there is indeed some new interest in the series.) Check out this clip of the potential series hidden in Hewlett's first directorial foray, A Dog's Breakfast.