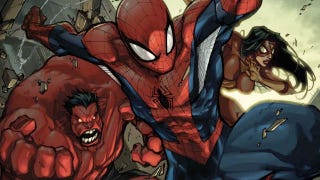 Hey, comics are out tomorrow! Spider-Man's attending a superheroic coffee klatch, Frankenstein's in a surly mood, Mike Carey's got plenty o' stuff on the stands, and John Byrne's Fantastic Four is collected in a book so burly it can cause concussions.
First Issues
Marvel pulls out some big guns this week with several high-profile releases. There's Avenging Spider-Man, which features Joe Madureira artwork and all of Spidey's colorful coworkers.
There's also the post-Fear Itself miniseries Battle Scars (more on that here) and Point One, a portentous one-shot volume showcasing seven stories that will set the agenda for the Marvel Universe in 2012.