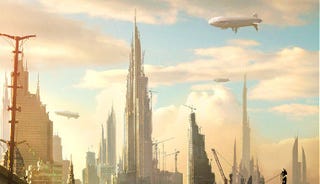 This month, many of us are trying to pound out a novel. The ultimate dream is to break into the publishing world with a debut that makes people sit up and take notice. And there's some good news on that front — some of science fiction and fantasy's most beloved writers have made a splash with their very first published novels.
Here are 10 science fiction or fantasy debut novels that made the world take notice.
Top image: Detail from cover of The Windup Girl, art by Raphael Lacoste
1) Frankenstein, or The Modern Prometheus by Mary Shelley
Year: 1818
What's it about: Victor Frankenstein discovers a way to bring inanimate bodies to life, and creates an eight-foot-tall monster which stalks him and brings death and devastation to everyone he loves. Finally he hunts it all the way to the Arctic circle. Shelley wrote this novel when she was just 18 years old.
Honors: No awards, although this novel became popular early on, and there were stage adaptations as early as 1826. And of course, there have been Frankenstein movies since the invention of cinema.
2) The Demolished Man by Alfred Bester
Year: 1953
What's it about: It's the 22nd century, and a lot of the population is telepathic, which makes it difficult for wealthy businessman Ben Reich to commit murder. A telepathic cop, Lincoln Powell, goes after him. (Read our review here.) Writes the Guardian, "Vivid descriptions of grungey post-apocalyptic brothels and cynically exploitative holiday planets wouldn't seem out of place in contemporary cyberpunk." Bester had actually given up on writing prose science fiction for ten years, writing instead for comics and radio serials, before he returned and published this novel.
Honors: The first ever Hugo Award for Best Novel. It was also a finalist for the International Fantasy Award.