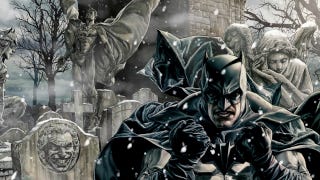 Halloween just finished up, but Batman's already getting ready for X-Mas. Also, Uncanny X-Men starts at #1 and Hellboy takes up Mexican wrestling. It's Comics We Crave, liking the feel of the bass in your face in the crowd.

First Issues
If you're looking for a wacky science fiction take on the marital culture wars, there's Sam Humphries' Our Love Is Real, a critically acclaimed indie book about futuristic romances between humans, plantsexuals, and crystals.
Marvel's releasing Fear Itself #7.1 — a story that focuses on the death of Bucky Barnes — and Andy Diggle's weird western Six Guns. Finally, Kieron Gillen's penning the first issue of a rebooted Uncanny X-Men, and you can read our interview with him about that here.