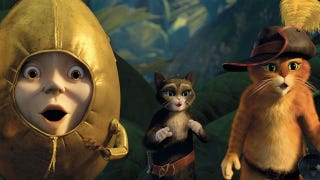 The new Dreamworks Shrek spin-off Puss in Boots is about a cat and a hat and is really kind of meritless, unless you're a member of fursuit fandom who can only appreciate Salma Hayek when she's a sultry tabby.
It's not greatly interesting, with the remarkable exception that PiB resurrects the strange sado-sexual dynamic from early Disney animation — a little something I call "the Plutonic Ideal."
Puss in Boots takes place in an undefined Iberian fantasyland where a talking feline reaffirms his friendship with a sentient unhatched egg, who in turn has spent hard time in a Spanish penitentiary for bank robbery. On paper, it's the kind of plot that belongs in a Salvador Dalí pseudo-documentary or chocolate bar commercial.