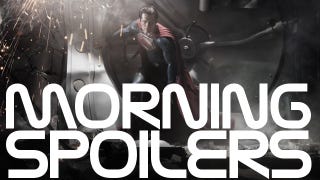 Man of Steel's Michael Shannon discusses the fight between General Zod and Jor-El. The new Beetlejuice movie emphatically won't be remake, while the Evil Dead reboot adds an unexpected twist. True Grit's Hailee Steinfeld joins an insane new science fiction movie.
Spoilers from here on out!
Top image from Man of Steel.
Man of Steel
An inside source claims to reveal the following details about the movie's climax:
- The showdown between Superman, Zod and Faora is the climax of the film.
- This occurs just after Zod discovers Superman's secret identity as Clark Kent, which results in Zod attacking the Kent Farm.
- The result of the attack leaves Superman "pissed off," battling it out in downtown Smallville vs. Zod and Faora — who have left the US Armed Forces in ruins.
- Christopher Meloni's [military] character is also a "Superman hater" and skeptical of the super-hero.
None of this seems particularly implausible considering the set photos we've seen and the sorts of Superman stories we've seen in recent years (you practically can't become a general in the DC universe without a healthy hatred of Supes), but that's kind of the point — this all could very easily just be some fairly straightforward educated guesses based on what's been filmed so far. The only big leap here seems to be the idea that Zod learns Superman's secret identity — although again that could just be a shrewd guess based on how much was filmed in the Smallville location of Plano, Illinois. That said, as you'll see below, Michael Shannon says he's only filmed one scene with Henry Cavill so far, so that kind of suggests the big climax probably won't be in Smallville, as this all suggests. So I'd go ahead and take this all with very liberal heapings of salt. [Cosmic Book News]
Michael Shannon discusses the fight scene between his General Zod and Russell Crowe's Jor-El:
"We do have a fight sequence in the film. We worked on it for a long time, we rehearsed it for a long time, then you shoot it and it's done. It's kind of strange to put all this work into something that's going to be maybe a minute long [on film]."
He also described working with new Superman Henry Cavill:
"I've shot exactly one scene with Henry so far. We have a lot together, we just haven't shot it yet. He seems very appropriate for the part, he's a big fella and he's very handsome and charming, so it's certainly understandable why they cast him. But I'll always have a soft spot for Christopher Reeve."
Meanwhile, Shannon says it still hasn't been decided whether General Zod will once again demand Superman kneel before him — which might mean there is a place where they could potentially put that line in the movie, but the filmmakers aren't sure if they want to so explicitly pay homage to the original films. Or, you know, Shannon is just humoring us after already being asked that question a thousand times. Either way, really. [Empire Online]
---
The Dark Knight Rises
The movie is reportedly set to film in Newark, New Jersey on November 3 and 4, including some scenes shot at City Hall. [The Star Ledger]
---
Iron Man 3
It's now pretty much confirmed that the movie will be filmed at the Screen Gem Studios in Wilmington, North Carolina. That, however, is pretty much everything we currently know about the production, other than that Shane Black is directing and Robert Downey, Jr. is starring. [ComingSoon.net]
---
Forgotten
Oren Uziel, the writer of the new Mortal Kombat movie, has reportedly been hired to write the adaptation of Cat Patrick's scifi novel, to which True Grit's Hailee Steinfeld is attached. The movie's almost psychotically insane premise involves a 16-year-old girl named London Lane whose memories are erased at 4:33 each morning, and she awakes with only memories of the future, and then she meets a boy who isn't in her future memories.[The Hollywood Reporter]
---
Sherlock Holmes: A Game of Shadows
Here are three TV spots.

---
Evil Dead Reboot
Here's a synopsis, which sounds more or less like the original movie:
Five twenty-something friends become holed up in a remote cabin where they discover a Book Of The Dead and unwittingly summon up dormant demons living in the nearby woods, which possess the youngsters in succession until only one is left intact to fight for survival.
There is, however, a twist, and it's all about drugs:
The "new spin" is the motivation behind the trip, with the lead character taking his younger sister to the family's cabin to help her kick her drug addiction. Without her drugs she becomes insane and difficult to control, which makes it impossible to see that she's actually possessed.
[ShockTillYouDrop and Bloody Disgusting]
---
Beetlejuice Sequel
David Katzenberg and Seth Grahame-Smith, who are developing a new Beetlejuice movie, insist that this will be a sequel, not a remake, or else it won't happen. Grahame-Smith explains:
When Warner Bros. came to us about it, we said the only way we'd do it if we got Tim [Burton's] blessing and involvement, and we got that, and the star of the movie has to be Michael Keaton as Beetlejuice, and it's a true continuation 26 years later. Not just throwing him in as a cameo going, "Hey, it's me. I endorse this movie." We're not there yet [with Keaton] because we don't have a film to present to him.
[EW]
---
Alive in Necropolis
Grahame-Smith also describes another supernatural project he and Katzenberg are developing, this time a thriller based around the real city of Colma, California, a town of just over a thousand with over a million people buried in its cemeteries:
When people in San Francisco [in the 1920s] realized they were running out of real estate, they exhumed all the bodies and graveyard markers and moved them to this town, making it basically a kind of city of the dead. The book is about a murder mystery, told through the eyes of a young detective who may or may not be going crazy, and may or may not be seeing ghosts that are helping him. It's a very rainy streets, brooding, straight-forward supernatural thriller.
[EW]
---
Breaking Dawn
Here's a Jacob-themed TV spot.

---
Doctor Who
As a bunch of people very helpfully pointed out to me, Bill Bailey's recent description of his Christmas special character as "kind of a futuristic space parky" likely refers to some sort of park ranger, which is a bit of British vernacular with which I was not previously familiar. That does seem to tie in nicely with the fact that the special is inspired by The Lion, The Witch, and The Wardrobe, which does rather suggest a woodland setting and, by extension, the presence of a park ranger. It's also way more sensible than my initial thought that Bailey was somehow referring to legendary BBC interview Michael Parkinson, which I knew was utterly bonkers pretty much from the moment I wrote it.