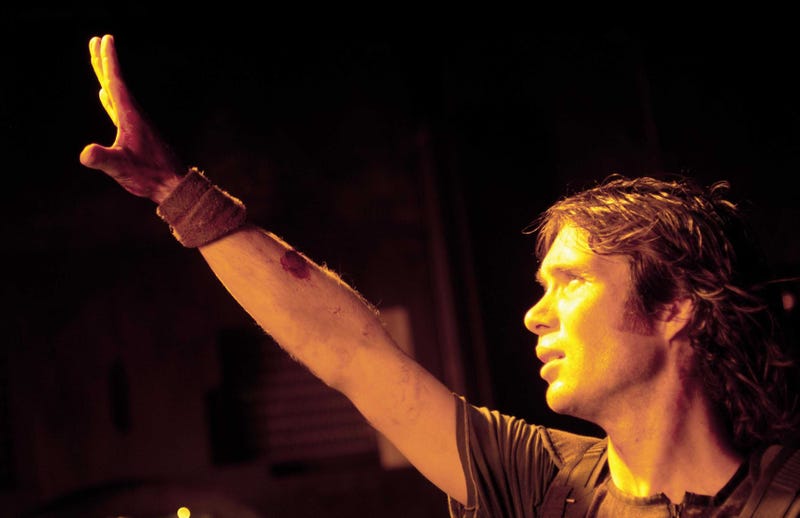 In Time is all about a whole Bonnie-and-Clyde-style crime wave — but the actual movie gets stolen by a member of the supporting cast, Cillian Murphy. The star of Sunshine and 28 Days Later is so much better than everybody else in that cast, it's almost embarrassing. You walk out of In Time shaking your head and going, "Cillian Murphy. He's an actor."
And after watching In Time, we were left thinking — what movie hasn't Cillian Murphy boosted to greatness? Okay, fine... Red Eye. But other than that, he's pretty much rocked out in some tough, and diverse, roles. Here's why we love him.
He plays a great innocent protagonist. For most of us, Murphy really came on our radar in 28 Days Later, where he has to be the audience identification figure in a world that's totally gone nuts. Cillian Murphy's eyes are ginormous, like the transplanted corneas of a giant ancient kraken from the depths of the ocean, and he has the lips of a dozen Mick Jaggers, smooshed together. And he deploys all of this in the service of looking totally gobsmacked by the fact that civilization has fallen while he was having a nap. You totally believe in the "rage virus" holocaust as seen through Cillian Murphy's panoramic eyes.
And then there's Sunshine, also from director Danny Boyle — in which Murphy not only has to be a viewpoint character, he also has to be totally sincere and solemn about the fact that the sun is dying and he's going to reignite it with a flying nuclear bomb. A lot of the movie's faith in humanity's ability to save itself is channeled through Murphy's massive unblinking doe eyes, and we get humongous close-ups of his staring eyes with the sun or other stuff reflected in them. And it's up to Murphy to sell us on the film's hairpin transition between "space adventure" and "slasher film," by totally buying into it himself.