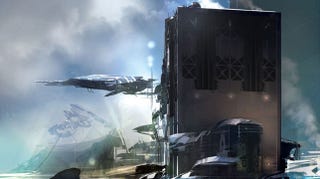 Many of science fiction's most rosy ideas of the future seem less and less likely, or they've already failed to materialize on schedule. But the future could still be a beautiful place.
There are still plenty of optimistic science fiction stories that haven't been disproved yet. They don't involve science that's been debunked, or events that were supposed to have happened by now. If you need something to believe in, here are some positive science fiction stories that could still come true.
Top image: Monosquare by Sparth.
Nowadays, it feels like a lot of science fiction is focused on apocalypses and dark challenges. Meanwhile, a lot of the older, more upbeat science fiction is already expired. We didn't colonize Mars by the year 2000. The Eugenics Wars didn't happen. A lot of magical technologies, like faster-than-light travel, are seeming less and less plausible. We seem no closer to eliminating war and famine and other scourges.
So what positive, hopeful science fiction stories could you still believe are real — or at least make a case for? Here are some suggestions.
The Jetsons
What it's about: This is probably the most classic utopian future that everybody has seen. It's the year 2062, and everybody's living in middle class paradise. It's apparently a post-scarcity society. American manufacturing is alive and well, and George only needs to work nine hours a week to provide for a stay-at-home wife, his two children, and a dog. There don't appear to be any poor people — in the Christmas episode, which is ostensibly a lesson about "giving," Spaceley only learns to "give" George more time off, not to give to the poor. Still, we have no idea what sort of post-apocalyptic mutants might be inhabiting the surface of the Earth in this universe — we never see what's happening on the ground, so it could be a zombie-strewn wasteland down there.
Why it could still happen: We're certainly capable of creating houses in the Jetsons style (just look at the Seattle Space Needle). Just how high we could feasibly build an entire city of them is up for debate, but we have the technology. Flying cars, meanwhile, are still a long way off being practical (although some early versions are reportedly hitting the market next year.) They're also not very socially responsible. Drunk drivers on the street kill people and down telephone poles. Drunk drivers in the air? They'll destroy skyscrapers and smash into electrical transformers. Meanwhile, the Jetson family's "smart house" is looking more and more plausible. Even Rosie the robot is coming closer.
---
Back to the Future, Part II
What it's about: In the Back to the Future version of 2015, it's basically the 1980s, only with cooler gadgets. Which, judging by the way we dress today, and the way our economy looks, was a pretty accurate guess. And this upbeat 1980s version of the future includes many things that have already come to pass, and are therefore moot. Including ubiquitous surveillance cameras, the influence of Asia on American culture and society, flatscreen TVs, widespread cosmetic surgery, and video games that don't need hands or traditional controllers.