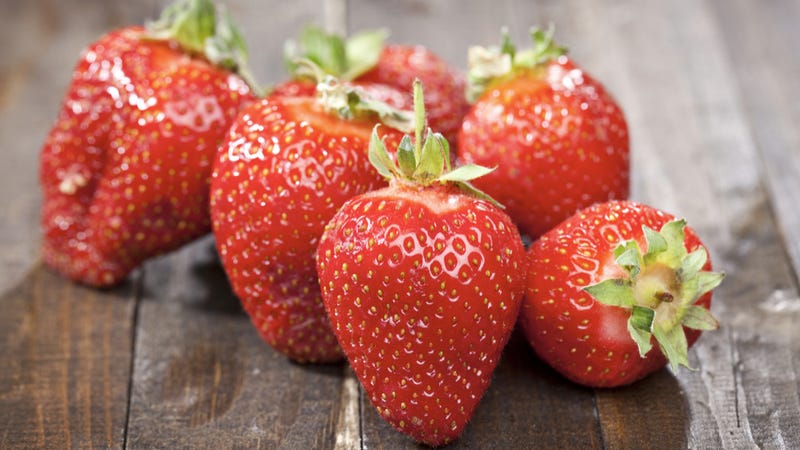 Drinking can wreak havoc on your insides, and not just the relatively short-lived brand of havoc brought on by a one-night drinking spree. We're talking long-term damage to the mucous membrane of your stomach that can give rise to all manner of gastrointestinal disorders, including ulcers, colorectal cancer, and inflammatory bowel disease.
Now a team of European scientists has found that strawberries can help mitigate the stomach-punishing effects of alcohol consumption, and could even help improve the treatment of stomach ulcers.
Sara Tulipani, researcher at the University of Barcelona and co-author of the study, explains that "the positive effects of strawberries are not only linked to their antioxidant capacity and high content of phenolic compounds, but also to the fact that they activate the antioxidant defenses and enzymes of the body."
Translation? Gastrointestinal diseases like stomach ulcers are caused in part by what are known as free radicals, which are atoms and molecules with unpaired electrons. The fact that these chemicals have unpaired electrons makes them unstable and highly reactive. In an attempt to regain stability, these free radicals will react with and try to nab electrons from other, normal molecules, giving rise to damaging chain reactions in your cells that accumulate over time.
Free radicals are the byproducts of oxidation reactions that go on inside your body; so when when Tulipani talks about the "antioxidant capacity" of strawberries, or their ability to activate the antioxidant defenses of the body, she's talking about their ability to inhibit the oxidation of other molecules, and, by extension, the production of harmful free radicals.
Finally, the phenolic compounds Tulipani is referring to are called anthocyanins (the same class of molecules that causes leaves to appear red during autumn), which are described by the researchers as having a "high radical-scavenging activity."