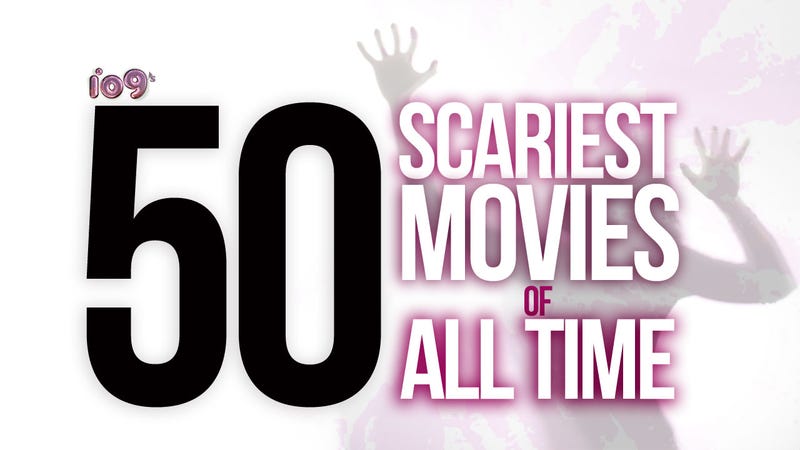 What is the scariest science fiction or fantasy film of all time? Which movies stand above the rest off all horror flicks as the most terrifying?
The staff at io9 has painstakingly selected the best of the best, and compiled our ultimate list of the scariest movies of all time. Over the next few days we'll be releasing our picks, ten at a time. Today, check out numbers 41 through 50...
50. Something Wicked This Way Comes (1983)
What: Loosely based on the 1962 novel by Ray Bradbury, this poor film was caught between a rock and a hard place as Disney gobbled up the rights hoping to widen the studio's "family feature" reputation. But even though director, Jack Clayton, tried his best to dilute the Bradbury horror plenty of unsettling oddities and creepy scenes landed on screen. The movie follows local boys Will and Jim as they get tangled up in the devious going ons at Mr. Dark's (Jonathan Pryce) traveling carnival. At this nightmare festival, Mr. Dark grants the townsfolk's wishes, but of course every wish comes with a horrible price.
Why: This movie scared the apple juice out of half of the io9 team. The pace, the people, the weird animated effects looped in with real life action still haunts our darkest fever dreams.
Scariest Scene: There's plenty to choose from, including a little boy's bedroom covered in real life tarantulas. But perhaps the scariest scene is also the most infamous. Mr. Dark's on the hunt for the main characters, and he approaches Jason Robards asking if he's seen either boy. Opening up his hands, Mr. Dark reveals two portraits penned on the inside of his palms. After being lied to, Mr. Dark furiously squeezes his hands smearing the ink and causing the boys (in real life) to bleed.
---
49. An American Werewolf In London (1981)
What: Two American youths run into a werewolf while backpacking through the English countryside. One dies, the other is cursed with the mark of the wolf.
Why: John Landis' direction changed the way we viewed the Classic Universal Monsters. He turned the whole canon on its head, playing with the rules and delivering one of the most legendary werewolf transformation scenes ever put to film, with the help Rick Baker of course. Being a werewolf was grotesque, dangerous and most of all painful, as the audience soon found out — through a set of screams and bone-breaking snaps. It's terrifying, disgusting work.
Scariest Scene: Even though we bow our heads to the renowned werewolf transformation, Jack's entrance was what really made our jaws drop. Doomed to walk the Earth in purgatory Jack's rotting corpse goes from gruesome to putrid over the course of the film. You want to laugh, but you're too busy just starring at the amazing gore work.
---
48. Midnight Meat Train (2008)
What: Bradley Cooper thinks he's caught the serial killer of the century on camera. But what he discovers is infinitely worse, and severely bloody. Based off a short story from Clive Barker this slasher flick is so much more than just a murderous butcher, Mahogany (Vinnie Jones), gone mad.
Why: We gotta give Meat Train props for all the insanity it hosed all over the audience. And the action, oh the action! There's a decapitated head POV shot in this film — and that's after the slasher smacks one victim so hard in the head, his eye pops out at the camera. It's delightfully gory and gruesome.
Scariest Scene: The finale. Which we've included above and is VERY VERY SPOILERIFIC, WE WARN YOU. Who knew Midnight Meat Train wasn't just your everyday cut-em-up flick? What's lurking beneath the surface of this movie was absolutely terrifying, and it kind of blindsided the audience in an exceptionally aggressive manner. Kudos for getting us off guard (and for ripping out Bradley Cooper's tongue and eating it for a snack, subway conductor).
---
47. Re-Animator (1985)
What: Shocking, funny, gory, and starring a very young, hot Jeffrey Combs, this movie from brainy schlockmeister Stuart Gordon is the very loose retelling of an H.P. Lovecraft short story called "Herbert West, Re-Animator." Basically it's the tale of a mad scientist, West (Combs), whose rivalry with his medical school professor leads to a terrifying discovery: a glowing green serum that can reanimate the dead. Unfortunately they come back as mindless zombies — but West's rival, after an unfortunate beheading accident, is reanimated into the sole creature who can rule the zombies with mind control. Fighting ensues.
Why: Creative effects and delightfully over-the-top performances elevate this flick from B-movie barfatorium to genuinely horrifying weirdness.
Scariest Scene: One of the first things that West's rival does, after discovering that he can control the zombies with his mind, is order his minions to fetch the young lady he fancies. Then he straps her to a table and . . . well, uses his head. Watch this NSFW clip if you dare. Luckily, West stops him before things get really horrific.