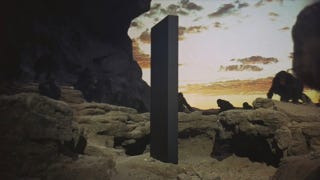 Halloween! It's the time of the year when some of us get dolled up in our finest regalia, and others have trouble remembering it's October.
If you're the kind of overworked, absent-minded, or just unabashedly antisocial individual who has no time or patience for the holiday, here are twenty cosplaying ideas. They'll get you into the party, but won't win you any costume (or charm) competitions.
1.) Dress as the Black Monolith from 2001. Black pants, black turtleneck, better-than-average posture.
2.) Wear your normal clothing. You're Mystique, undercover.
3.) Don a crimson cardigan and cryptically intone, "I'm the one that got away."
4.) Draw a lightning bolt on the left side of your head (your left). Proclaim you're Bizarro Harry Potter.
5.) Crook both of your elbows and a transform your hands into two crooked peace signs. If anybody asks, you're "Human Hubris."
6.) Affix a blue triangle to your head and noncommittally hum "Going Back To Cali." If anybody asks, you're "Human Hubris."
7.) Wear your normal clothing. Loudly announce, "Dennis Quaid is inside me!"
8.) Smear a spot of jam on your sleeve. Inform your peers that you're the Incredible Melting Man, but at the beginning of the movie.
9.) Wear your normal clothing. If anybody asks who you are, assert that you're yourself "but in a parallel universe where this conversation never happened."
10.) Pull a Corey Hart. You're in the Matrix!
11.) Wear your normal clothing. "You know, like The Sixth Day!"
12.) On a similar note, everyone loves a party-goer who can only say, "Two weeks!"
13.) Wear a top hat. Dracula wore a top hat, right?