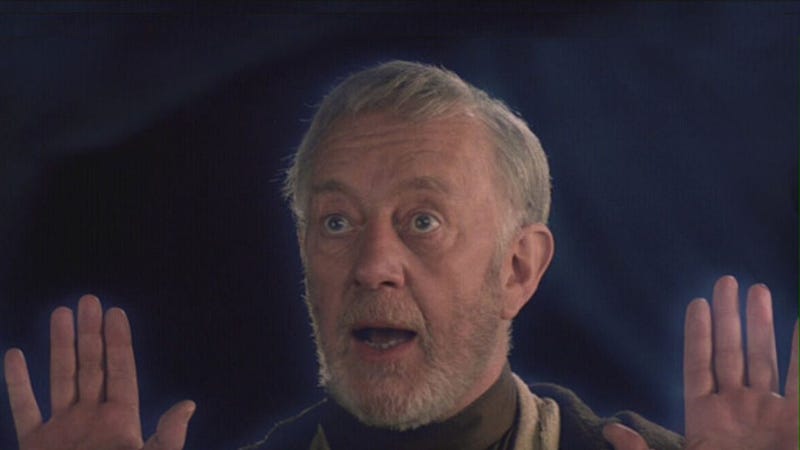 Last week, Fringe finally gave us the conclusion to a weird ghost story that's been simmering since last season. But Fringe isn't the only science fiction universe to dabble in ghosts — there have been hauntings and apparitions in Star Trek, Doctor Who, Star Wars and countless other science fiction universes.
Just because there's a rational explanation doesn't make it less ghostly! Here's our list of spooky ghosts from science fiction.
Yui Ikari from Neon Genesis Evangelion
During a contact experiment with Evangelion Unit-01, Yui's body loses cohesion and reverts to LCL, the "primordial soup" from which all life on Earth is based. Her soul gets absorbed into the EVA's core. She doesn't quite go on living inside the EVA, it's more like she died and the EVA became her new body. And when Unit-01 appears to go berserk, it's actually Yui taking control.
Captain Kirk, Star Trek
In "The Tholian Web," Captain Kirk gets lost on an away mission — but crewmembers of the Enterprise keep seeing Kirk floating in mid air looking ghostly, including a great scene in Uhura's quarters, where she's wearing an insane nightie. Spock, being kind of a dick as usual, thinks that the crew is just seeing what they want to see. Until finally Kirk appears to the entire crew, on the Enterprise bridge, and Spock is forced to accept the evidence of his own senses — it's a transdimensional rift thing.
Optimus Prime/Optimal Optimus, Transformers: Beast Wars
This one gets a bit confusing. Beast Wars takes place millions of years in the past — after the Ark that brought the Autobots to Earth had landed, but before the Autobots inside had woken up. At the end of season two, the Maximals and Predicons find the Ark with all the Autobots, including Optimus Prime, in stasis. Megatron blasts Prime's body — and the resulting paradox causes a time storm to rage that would eventually erase the Maximals from existence (the Maximals being successors to the Autobots). Optimus Primal takes Prime's spark into himself to protect it, while Prime's body was repaired, and as a result Primal adopted his Optimal Optimus form, with added tank and jet parts. Primal replaced Prime's spark, but retained the new form. So basically, Prime died — and his soul lived on in Primal. It's not that complicated, really.
Zoe Graystone and Tamara Adama, Caprica
Zoe dies in a train explosion, but she lives on as a kind of ghost in the machine — both as a virtual entity, and later as a cyber-soul possessing a robot. She's also the first sort of proof of concept for the Soldiers of the One's idea of a virtual afterlife — except that lucky Zoe gets to have an afterlife and exist in this world. Also along for the ride: her fellow bomb victim, Tamara. (For more cyber afterlifes, click here.)