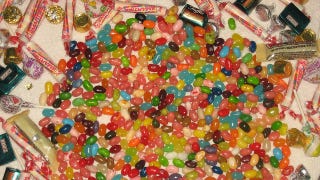 It all sounds a bit insane: people who like sweet foods are someone just generally nicer than people who don't. It sounds like the latest example of dubious evolutionary psychology, but it's actually about how language subtly shapes our behavior.
A team of researchers from North Dakota State, Gettysburg College, and Saint Xavier University designed a series of five experiments to see how taste preferences related to behavior. One experiment showed participants that ate a sweet food like chocolate were more likely to volunteer to help somebody than those who had eaten a non-sweet food like a cracker. Another study revealed how people view the taste preferences of others. It turns out people tend to think those with a sweet tooth are more agreeable and helpful than others, and less likely to be neurotic or extroverted.
There are a bunch of ways one could attempt to explain this result. You might apply an evolutionary perspective to all this and imagine that, in the early days of humanity, those who particularly liked sweet foods were good at foraging for fruit. Gathering food is a cooperative activity, and those who found the most fruit would by extension be seen as particularly giving and helpful by the rest of the group. Of course, that's all completely bonkers, but it wouldn't be the most ridiculous thing I've heard lately.