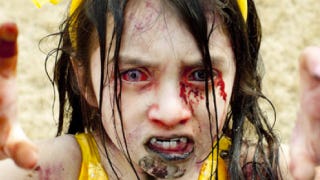 We've got a double dose of news about everyone's favorite horror comedy writers Paul Wernick and Rhett Reese. Looks like Zombieland 2 might become a TV show, and there may be a potentially hilarious Micronauts film in our future!
First up, Vulture is reporting that Fox and Sony Pictures Television are quietly developing a half-hour comedy based around the film Zombieland. We have a feeling the insane, record-breaking ratings of The Walking Dead may have had something to do with this news being leaked.
Thankfully, the original writers Rhett Reese and Paul Wernick are attached to the project, which shouldn't be a big stretch for them, as Zombieland was developed as a TV series before it was adapted for film. Here's a snippet from a previous interview we did with the writers that reveals how Zombieland changed over the years.