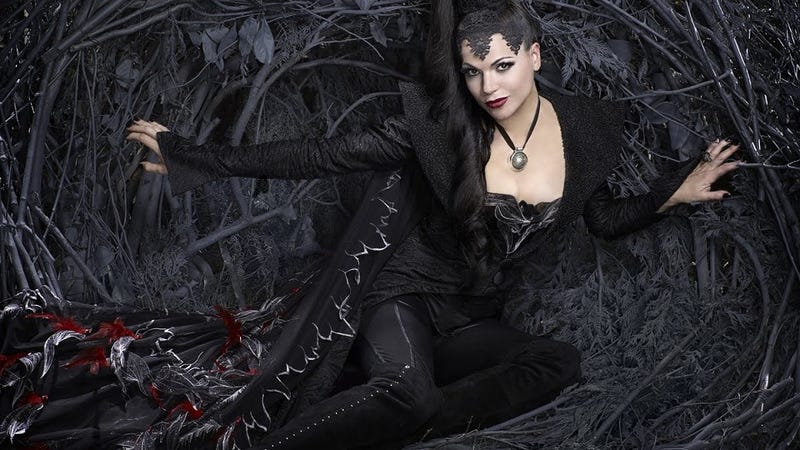 This week on television, Robot Chicken returns. And two Lost writers take us to a fairytale land with Once Upon a Time. There's one new Marvel superhero show, plus the return of another. Two Buffy stars reunite on Supernatural. And there's gorgeous new evidence of possible life on other planets!
Plus can you see through Finn and Jake's disguises in a new Adventure Time image? And there are new sneak peeks from Terra Nova, Once Upon a Time, Iron Man: Armored Adventures, American Horror Show, Sanctuary and Walking Dead. Television is your friend!

Today:
Cartoon Network has a Halloween-themed outing of its big animated block tonight. First at 7 PM, there's a new Johnny Test, "Trick or Treat." That's followed by a new Amazing World of Gumball at 7:30 PM, "Poltergeist." More importantly, at 8 PM there's a new Adventure Time, featuring a masquerade and murder! Here's what to expect from "The Creeps":
Finn and Jake receive an invitation to a masquerade dinner. It turns into a whodunit as guests start to meet their demise.
Can you spot Finn and Jake in the picture at left? Then at 8:15 PM there's a new Regular Show. Then at 8:30 PM, Cartoon Network has another episode of Secret Mountain Fort Awesome, followed by a new Mad at 8:45 PM.
There's also a new Terra Nova on Fox at 8 PM, in which the show looks like it might shift into high gear. "The Runaway":
A "SIXER" RUNAWAY'S ARRIVAL AT THE COLONY PROMPTS ITS LEADERS TO QUESTION WHO THEY CAN TRUST... When an orphaned "Sixer" girl comes to Terra Nova seeking asylum, Jim and Shannon are at odds if they can trust her; Mira plots to reclaim a valued possession; Taylor begins to suspect there is a traitor in his midst and Reynolds admits his feelings for Maddy.
And here are three sneak peeks:

A third option at 8 PM: Nicktoons has a new episode of Iron Man: Armored Adventures in its new time slot, with "The Might of Doom."
Doctor Doom has come to New York to steal the stolen Iron Man armor specs. Tony has to give it his all to stop him.
Also at 9 PM: a new episode of the frequently mad-sciencesque House on Fox.
And then at 10 PM there's another episode of Castle on ABC, "Eye of the Beholder."
Death Valley premieres in its new 11 PM timeslot on MTV. Yes, the police of the undead are now competing with The Daily Show. Good luck.
Tuesday:
There's a new Scaredy Squirrel on Cartoon Network at 7 PM.
At 8 PM, Nicktoons has a new episode of Speed Racer: The Next Generation. Remember that show? It's "The Hunt For Truth, Part 1."