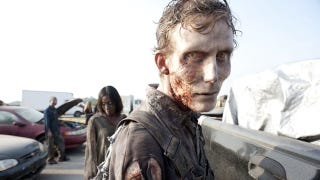 The last time we saw the plucky survivors of The Walking Dead — way back in December 2010 — they were trapped in Atlanta's Center of Disease Control by a very depressed scientist, shatter-proof glass, and an invisible force field of melodrama.
And now that the show's back on the air, the gang's flipped 2010 the bird, peeled out of the smoking crater that was the CDC, and hit the highway! The wind is rustling through their hair and the undead roamers are nipping at their heels! This week's problem: the world's most dangerous traffic jam — which consists solely of parked cars — and damn kids who don't listen to directions. Spoilers on.
Tonight's season premiere — "What Lies Ahead" — kicks off with Rick recapping Season 1 in a one-sided walkie-talkie to his perpetually off-screen buddy Morgan. Is Morgan alive? Dead? Who cares! After shedding a single tear for Jacqui (a.k.a. the lady who had five lines before blowing up with the CDC) we're out of Atlanta and off to Fort Benning, the military base Shane wanted to go to before Rick led them to Motel Thermite.