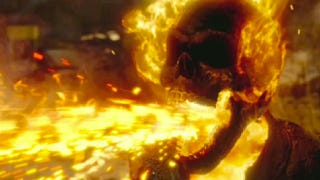 New York Comic Con saw the premiere of new grizzled Ghost Rider: Spirit of Vengeance footage, including Ciarán Hinds done up like the devil and skulls barfing fire. Plus, find out how Crank directors Mark Neveldine and Brian Taylor rebooted the Penance Stare.
The panel started with a collection of behind-the-scenes clips. Attendees saw extreme directors Neveldine and Taylor getting pulled my motorcycles on rollerblades while filming Nic Cage riding down the road on his hellish bike. There were also explosions, wire whips, and lots of other exceedingly dangerous stunts.
Cage appeared on screen and said, "Mark and Brian are both very camera-oriented — they really know how to work the camera." Cut to more wild shots of the directors filming off the edge of a cliff! It was pretty bad-ass, but I wanted to see the directors yell "parkour hardcore" after every ridiculous stunt. The behind-the-scenes footage ended with the promise of "Fucking Your Shit Up in 3D," which brought out a gleeful roar from the audience.
After the behind-the-scenes spectacle, the two directors came out and showed off a brand new (and pretty long) trailer. It did have a lot of the same scenes from the first trailer Sony released, but there were plenty of hidden gems we caught. Here they are: