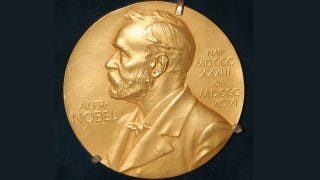 The 2011 Nobel Prizes have been announced, honoring preeminent achievements in the fields of physics, chemistry, medicine, literature, the promotion of peace, and economics. Here's what you need to know about the three science-related Nobel Prizes.
Nobel Prize in Physics
The physics prize has been divided among three scientists, with half going to Saul Perlmutter of the Supernova Cosmology Project at Berkeley and the other half split between Brian P. Schmidt at the Australian National University and Adam G. Riess at Johns Hopkins, both of whom are members of the High-z Supernova Search Team. Even by the standards of the Nobels, these three are being honored for a towering achievement in physics: the 1987 discovery that the expansion of the universe is accelerating. This finding has radically redefined our understanding of the cosmos, and we're still struggling to come to grips with the driver of this expansion, the mysterious dark energy.